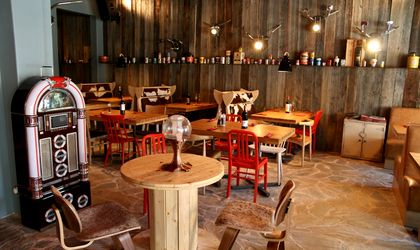 Red Angus Steakhouse has reinvented itself this summer, transforming the meat into a tender and juicy experience, everything wrapped up in an authentic American menu. In the same location, 56 Franceza Street, but in a better design, the restaurant is expecting beef lovers in a larger space and more relaxed, a wooden barn built over 100 years ago, full of classic American symbols, such as motorcycles, a fully functional jukebox or an original pinball machine.
For rare grilled steaks, medium grilled steaks or well done steaks, the beef is imported from the U.S. and certified USDA (United States Department of Agriculture) Choice, the second highest level of internationally recognized quality. The new entrances of the menu are Coffee Rub Rib Eye Steak (Grilled Rib Eye steak with coffee rub and caramel onion butter with season vegetable mix – RON 130), Chocolate Red Wine Tenderloin Steak (Grilled Beef Tenderloin with chili chocolate sauce and red wine, vegetable mix and bean sprouts –RON 165) and Red Wine Tenderloin Steak (Grilled Tenderloin in red wine and black currants, served with Brussels Sprouts bakes in Blue Cheese cream – RON 167).
Moreover, from Thursday to Saturday, the building vibrates to the rhythm of blues as Marcian Petrescu Band and The Night Train will be on stage at Red Angus Steakhouse, performing live classical repertoire's most famous artists.
Address: 56 Franceza Street, Old City Center, from 12.00 to the last client.
Oana Vasiliu