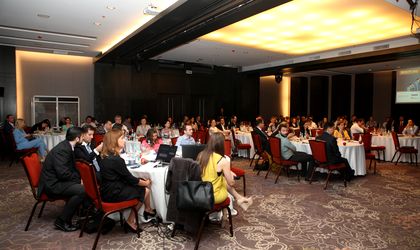 New demand for office space is on the rise, the industrial sector is looking at further consolidation ahead, more new apartments should be delivered this year and developers are pushing the pedal on shopping mall expansions, emboldened by last year's retail increase. All this suggests that the market is entering a more sustainable growth cycle, argued participants at BR's 14th Realty event.
Simona Bazavan
Office was the liveliest real estate sector last year, and judging by data from the first semester it will maintain this status. Although the total leasing activity reported so far in 2015 has been similar to the level posted the previous year, new demand represented 70 percent of the entire volume of 2014, said Georgiana Andrei, director of the office & retail agency at Colliers International Romania.
New demand for office space has come mostly from existing companies expanding their presence rather than new entrants, said Sorin Visoianu, country manager, office & logistics Romania and Bulgaria, at Immofinanz Group. However, should the economy continue to improve, the conditions will be right for more newcomers to set up local operations as well, he added.
Companies offering back office solutions, shared service centers and business process outsourcing providers remain very interested in the local market, added Aurelia Luca, leasing manager at Skanska Property Romania.
Competitive costs and a skilled labor force continue to be the main factors attracting such firms locally. "We know companies – some are our clients – whose main reason for coming here was the fact that they found multilingual employees," said Visoianu.
In addition to the basic requirements when choosing an office scheme, such as easy access to the public transport network, preferably subway, such tenants also come with specific demands which are shaping the way developers build new projects. Moreover, increased competition among such players in attracting and retaining employees is also reflected in their office requirements. "These are normal demands but with a focus on using the space in an efficient manner. Most them are looking for mixed offices, meaning open space areas as well as solutions that enable employees to desk share and areas for relaxing," said Stefan Tudos, leasing manager at Genesis Development. There is also increasing demand for green office buildings, he added. Reducing costs is one reason for this, but it is also part of a greater effort to create an employee-friendly office environment, commented Luca.
Green certification is also an important plus for an office scheme when the developer wants to sell it, especially when the potential buyer is an American investor, noted Silviana Badea, head of capital markets at JLL.
Growing demand for office space means that by the end of the year the vacancy rate should also improve and there are even the right conditions for rents to pick up slightly. All this means that there are greater chances that some long awaited new investors could enter the local market. "We have had many concrete offers from players that are either not present locally or they have been active in Romania but haven't bought anything since 2008," said Andrei.
One problem remains the ratio between yields and the level of interest rates for financing investments, which makes Romania less attractive than countries like Poland, she added. Even so, Romania could see the entry of new players willing to take the risk, who in turn will be followed by more risk-averse players, as was the case before the crisis, argued Badea.
Another argument in favor of this is Romania's economic and political stability compared to other countries in the region such as Russia, Ukraine, Turkey, Hungary and Greece, according to Dimitris Andritsos, the CEO of Eurobank Property Services.
Industrial continues to consolidate
Industrial, too, has performed well over the past year. "While a few years back the vacancy rate went as high as 35 percent, now, in Bucharest, it is hard to find a consolidated space of 10,000 sqm," said Badea. Developers have become more prudent, opting for a built-to-suit approach over the past years rather than speculative developments, a trend that is expected to continue.
One example is the Brasov Industrial Park developed by ICCO, which over the coming months will expand the project by 15,000 sqm, space that has already been pre-leased by existing tenants, said Mirela Radulescu, sales & marketing director at ICCO.
There are also exceptions, such as Immofinanz, which will this year start building the first phase of a 140,000 sqm logistics park near Bucharest in Mogosoaia.
After P3 entered the market last year, the sector is looking at more consolidation ahead, with most of the existing stock being divided between about three players, concluded Badea.
Read more in the next BR edition