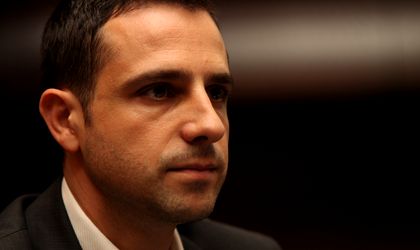 Telecom operator RCS & RDS has signed a two-year agreement with Vodafone Romania, which will see the expansion of the RCS&RDS national roaming coverage.
 Based on this agreement, customers of RCS&RDS will benefit from mobile telephony services in the areas where the operator still does not have coverage, being able to switch automatically from one network to another, according to RCS&RDS officials.
"Our customers will use the national roaming service with no additional costs," said Valentin Popoviciu (in picture), business development director of RCS&RDS.
"This is an obligation that was stipulated in the licenses acquired by operators in 2012. All operators are compelled to offer national roaming, under some commercial terms. We have discussed with the operators on the market and eventually reached an agreement with Vodafone," he explained.
Popoviciu also said during a pres conference organized by the company that he does not expect too many RCS&RDS customers to flood the Vodafone network. "We are currently developing our 900 MHz and 2100 MHz networks, so the number of customers who will be switching to the Vodafone network in national roaming will not be too high," estimated the company official.
RCS&RDS also announced that it has activated its 900 MHz network. "This year we will be activating the 900 MHz network in over 500 sites," said Popoviciu.
In 2100 MHz, RCS&RDS covers approximately 78 percent of the territory and approximately 65 percent of the population, while coverage figures in 900 MHz will be announced shortly.
Popoviciu was vague when asked by BR about the investments RCS&RDS will make this year into network expansion.
"Up to now we have invested in the license, which was EUR 40 million, than we invested in the initial coverage and we will continue to invest from now on. We did a refinancing at the end of last year, which we have already announced," Valentin Popoviciu told BR.
This year RCS&RDS will stick to 3G. "We believe it offers the optimum speeds for our customers," said Popoviciu.
"We are also encouraging our customers to use Wi-Fi at home over their fixed connection, and many of them are already doing that,"said Popoviciu.
RCS&RDS currently has a network of 2,000 Wi-Fi hotspots, which offer free access to its customers.
The company official claims that 99 percent of RCS&RDS customers are connected via fiber-to-the-building or fiber-to-the-home.
RCS&RDS will also soon announce new bundles that will include the possibility for clients to acquire mobile devices, possibly subsidized.
While the telecom operator invested in solar installation pannels last year, Popoviciu told BR no other investments are planned. "For now, the terms are not very auspicious for making investments in green energy, but we shall see," he said.
RCS&RDS is also active as a provider of media content, offering several of its own channels to its subscribers. "We do not plan to launch any new Digi channel but we make modifications to the list of channels in our portfolio permanently. Our focus has shifted to the online, where we will develop and add new content. We are about to announce soon something related to our content business and the online platform," Popoviciu told BR.
Otilia Haraga