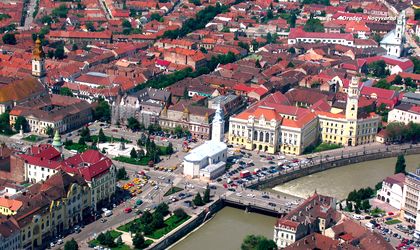 Ilie Bolojan, Oradea's mayor and Nelu Dumea, regional director of RCS & RDS spoke in a press conference about the partnership for the construction and operation of an electricity distribution network.
The purpose of the partnership is electricity distribution at lower prices. Electricity supply will start as soon as possible, but the electricity distribution can start only after approval of the project in the City Council, after the conclusion of the licence process.
Thus two important competitors will supply electricity, which is a premiere in Romania. The citizens will benefit from this competition as they will have the possibility to choose the lowest price. Also Oradea can provide cheap electricity for companies that choose to invest here.
"Oradea City Hall will participate with the technical support, i.e. the land that will be leased to the company for the electricity transfer and distribution stations. The city will spare 1.1 million annually", the mayor said.
After the partnership with RCS & RDS will become fully operational, the 20% discount in the gross price of electricity as well as the 20% discount of the distribution price charged by the operator will lead to a reduce by 16% of the final invoice paid by the citizens in Oradea.
Bolojan Elias argues that the partnership will have multiple benefits: "on the one hand we realize a saving of 900,000 Euros annually in electricity bills, on the other hand we will receive a participation of 10% of company profits, but not less than 200,000 Euros per yea".
Romanian telecom provider RCS&RDS is the company that won the tender for the construction of 200 km of technical sewer where telecom, lighting and electricity networks are gathered.
Laura Grigore
Photo credit: Wikipedia