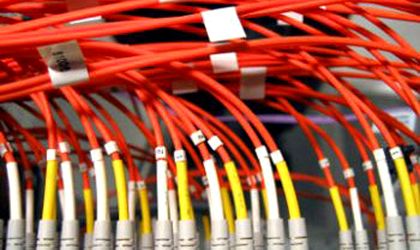 Telecom operator RCS & RDS announced it tested in August the 100G technology within its network in partnership with 3 vendors: ECI Telecom, Cisco and Juniper.
Thus, ECI Telecom supplied DWDM (dense wavelength division multiplexing equipment) while Cisco and Juniper provided the IP routers.
RCS & RDS is the only company that tested this technology in Romania with 3 vendors, says the company.
"The 100G tests previously made by other companies were carried out using equipment of a single vendor (at most two) and with one single type of equipment at the destination ends.
RCS & RDS made the connection between Bucharest and Oradea using 100G on a distance of 700 kilometers.
An upgrade of the company's backbone from 10G to 100G would increase its capacity tenfold which would allow RCS & RDS to bring in the same network a much higher number of clients, and at the same time, allocate to clients more bandwidth for internet, says the company.
"We are permanently preparing our network for the future, as we have done until now. An RCS&RDS client of the network in which we performed the tests could use starting from now the internet for applications that would be available only ten years from now. We cannot conceive these applications from now on, but we know how much band they would take," said Silviu Georgescu, technical manager at RCS & RDS.
The company says that the upgrade to 100G can be made without significant alterations to the current infrastructure.
100G still only accounts for a small, but increasing, percentage of the industry's total optical transport.
 Otilia Haraga