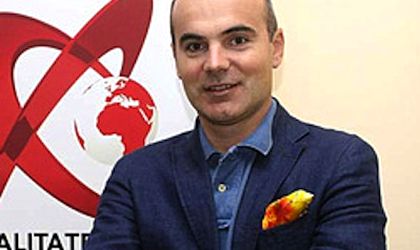 The joint cultural committees of the Romanian Parliament have voted journalist Rares Bogdan as interim general manager of the Romanian Television Company (SrTV), with 15 votes for, 1 against and 5 abstentions, according to Agerpres newswire.
Rares Bogdan is the proposal of the National Liberal Party as the interim GM of the public television channel, saying that the priorities on his agenda are the TVR International channel, and making educative, cultural and sports channels.
"I believe that TVR can become a Romanian BBC, I want to promote culture, education and lots of sports," said Bogdan.
He will remain interim general manager of the institution until the Parliament approves a new administration board.
The next step in the validation process is the vote in the Parliament plenum.
Bogdan was born on September 17, 1974 and graduated from the Babeş-Bolyai University in Cluj-Napoca, the Faculty of Political and Administrative Sciences. He also has a master's degree in political sciences from the same faculty.
Since January 2013, he has been hosting the show Power Games (Jocuri de putere) on Realitatea TV.
Between August 2011 and March 2013, Bogdan was general manager of the Realitatea TV local stations. Since 2010 and until now, he is general manager of Realitatea TV Cluj.
Since 2012 until the moment, he has been general manager of the news portal provincianews.ro. Since 2004 until the present, he has been general manager of Ziua de Cluj publication.
Starting 2002, he has been general manager of Trend Communication.
Otilia Haraga