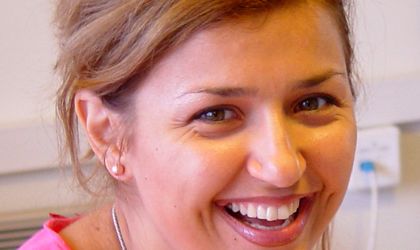 Raluca Milin, Managing Partner SENSIO, is the event speaker at Meet the WOMAN!, organized by Women in Business on Wednesday, November 18th, 2015, at 19:00, at Ernst & Young Bucharest Tower Center. The event topic will be "A startup's energy: personal resources management, balance and self-discovery".
Meet the WOMAN! is a business networking event which takes place monthly and addresses both entrepreneurs and women who work in companies and are specialists in a field.
"The first years of a new business are crucial and they way we manage our time and actions in this period can decisively influence the results we have, the business' development, and our personal life. Together with Raluca Milin we will discover how we can best target the energy we have in the beginning towards actions that make a difference without dissipating our personal resources of time, optimism or creativity, how can we find a balance between family life and entrepreneurship, but we will also talk about our road to self-discovery," stated Alice Botnarenco, Women in Business founder and president.
Raluca Milin
Raluca Milin made the decisive change from the corporate environment to entrepreneurship 6 years ago, after working for 13 years in two large corporations in Romania in the telecom field, CONNEX and UPC. Thus, in 2009, she founded her own company, Sensio, a business in consulting and furniture import for hotels, restaurants and cafés. All Sensio products and services are custom made, starting from the needs and the budget of the clients, so the results will be locations where guests will feel good, with a design that makes sense and where you want to come back. Sensio works business to business to with hotels, restaurants, bars, lounges and cafés. Their portfolio includes: Hotel Epoque, Hotel Hilton – Bucharest, LOFT Restaurant, Embassy Restaurant, Bonne Bouche Restaurant at Hotel Ramada – Oradea, Musetti Crane Cafe – Bucharest, Food Court – Vaslui and many others.
Event access
The attendance fee is RON 90 (no VAT/coffee break included).
Event access is done only by booking and registration confirmation. Women in Business members benefit from a 25 percent discount from the attendance fee.
The attendance fee for members is RON 67.5 (no VAT/coffee break included).
Location
The event will be organized at the Ernst & Young Bucharest Tower Center, 22nd floor, 15-17 Ion Mihalache Blvd., Bucharest (map: https://goo.gl/maps/krVWkXjPgQF2).
Registrations are done at: membership@femei-in-afaceri.ro and for further details you can call +40 762 677 111.
Event schedule
18:30 – Participant registration & coffee
19:00 – Event starts
19:15 – Networking techniques with Paul Renaud
19:25 – Each participant introduces herself and the business/job she has
20:20 – A presentation on the topic is delivered by the event speaker
20:35 – Q&A
20:55 – Raffle with prizes offered by partners
21:00 – Business Networking
About Women in Business
Founded in 2009 by Alice Botnarenco, the Women in Business organization develops projects which address entrepreneurs and women who work in company. In 2012 she represented Romania at Global Summit of Women, the largest economic forum for women, relaunched the site www.femei-in-afaceri.ro, positioned as an information portal from the female business environment and created the first online business platform for women in Romania.
Initially an online community, Women in Business has at present over 2,000 members on LinkedIn and a few thousand participants at the over 200 business networking events which took place during 6 years of activity.