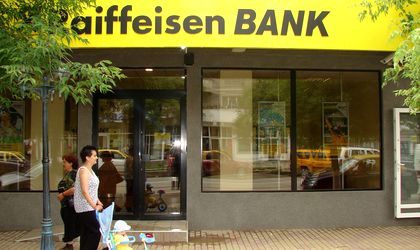 Raiffeisen Bank International (RBI) plans to exit Polish and Slovenian markets and cut back operations in Russia in a radical overhaul after having registered a consolidated loss of EUR 493 million in 2014, it said on Monday according to Reuters.
RBI profit before tax dropped to EUR 23 million in 2014, from EUR 835 million registered the previous year, according to preliminary data released by the Austrian bank and quoted by Mediafax. Following these results, the bank decided to sell operations in Slovenia and Poland in order to consolidate its capital and to boost its fully loaded common equity Tier 1 capital ratio from 10.0 percent of risk-weighted assets (RWAs) at the end of 2014 to 12 percent by mid-2017.
At the same time, RBI will cut exposure in Russia, where RWAs are set to fall by a fifth by end-2017 from EUR 8.4 billion at the end of 2014.
At the end of September last year, Raiffeisen Bank International had 530 branches in Romania, up from 529 branches in the same period of the previous year.
In Romania, RBI reported, for the first nine months of 2014, a profit after tax of EUR 81 million, having stagnated compared to the corresponding period of 2013.
After having announced on Monday that it will exit the Slovenian and Polish markets, RBI CEO Karl Sevelda on Tuesday said that the bank aims at strengthening its position in Central and Eastern Europe and that it will expand its operations on Romanian, Austrian, Slovakian and Czech markets and in the Balkans.
Andreea Marinas