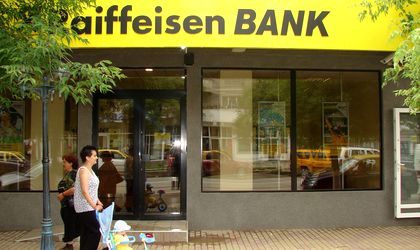 Raiffeisen Bank International's profit in Romania after taxes is up 15.8 percent on the year, from EUR 86 million in 2012 to EUR 100 million last year, as a result of lower payments in the profit tax account.
Earnings before taxes increase by 3.1 percent to EUR 101 million. Operational income is up 1.7 percent in the interval, from EUR 458 million to EUR 465 million.
Net income received through interest is down 7.2 percent to EUR 281 million, while revenue from fees and comissions went up 18 percent to EUR 168 million. Net income from transactions increased 50.8 percent, to EUR 14 million.
Raiffeisen's assets in Romania are up 9.1 percent, from EUR 5.98 billion in 2012 to EUR 6.53 billion in 2013. The credit balance registered a 1 percent growth, from EUR 4.23 billion to EUR 4.27 billion, while deposits recorded a growth of 15 percent, from 3.78 billion to EUR 4.34 billion.
The ratio between credits and deposits also improved, below the level of 100 percent to 98.2 percent, after in 2012 it was 111.8 percent.