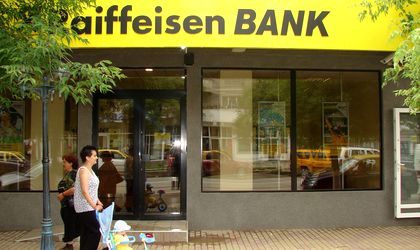 The net profit of Raiffeisen Bank Romania, owned by Austrian Raiffeisen Bank International, fell by 8 percent year-on-year to EUR 88 million, as the lender doubled provisioning due to the weak economic recovery.
The bank has lowered costs by 8 percent sending the cost/income ratio down by 4 percentage points to 59 percent. It axed 550 jobs last year to 5,361 employees and closed 18 units to 535.
Steven van Groningen, president and CEO of Raiffeisen Bank, said: "The market position of the bank, the permanent improvement of our efficiency and the continuous increase in the quality of our activities allowed us to maintain and diversify our income base in 2012.
"A strict control of costs and risks as well as further improvements in efficiency will remain our priorities in 2013."
Raiffeisen's loan book remained stable at EUR 3.52 billion and the loan to deposit ratio lost 3 percentage points to 92 percent.
The lender has increased net provisioning for impairment losses by 62 percent to EUR 78 million, because the local economy failed to get on the path of sustainable growth.
The non-performing loans reached 7.2 percent, while the coverage ratio rose to 75 percent.
Raiffeisen added 60,000 customers last year, reaching around 2 million individuals, 105,000SMEs and 7,500 companies. It had over 1,100 ATMs and 11,000 EPOS.
The assets fell by 4 percent to EUR 5.31 billion.
Ovidiu Posirca