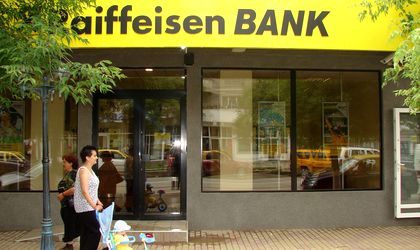 Raiffeisen Bank International (RBI) posted an after tax profit of EUR 81 million in Romania in the first nine months, similar with the same period of 2013, as the effect of higher taxes on commissions was annulled by the decrease of revenue from interests, the lender said in a report Thursday.
Income from interest is down 3.6 percent from EUR 212 million to EUR 204 million, while commissions went up 7.9 percent to EUR 127 million. Trading revenue increased 35.5 percent to EUR 15 million, according to the financial report sent by the Austrian bank.
RBI's operational income on the Romanian market grew to EUR 348 million from EUR 343 million the year before.
Provisions for non-performing loans dropped 18.9 percent from EUR 75 million in the first nine months of last year to EUR 61 million at the end of September.
The balance between expenses and income improved to 55.5 percent from 58.2 percent in the similar period last year.
At the end of September, RBI had 530 branches in Romania, up from 529 at the end of September 2013.
"In Romania, a country that benefits from successfully implemented structural reforms but where internal demand remains low, we estimate a GDP increase of 2 percent in 2014. Most of the other countries in the region will experience an economic growth between 0 percent and 1.7 percent, while Croatia and Serbia will stagnate", according to the bank.
For 2015 and 2016, RBI estimates an economic growth of 2.7, 3 percent respectively in Romania. For South-Eastern Europe, the advance will be 2.2 percent, 2.8 percent respectively.