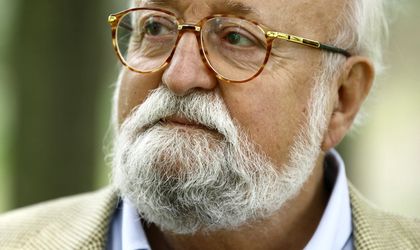 Under the wand of the Romanian conductor Tiberiu Soare, Polish violinist Patrycja Piekutowska will have a Ceaikovski and Penderecki program. She took in 2008 the prestigious award Cannes Classical Award for recording the violin and orchestra Capriccio under the wand of Krzysztof Penderecki. The Polish violinist will also interpret Ciacconna for strings orchestra, signed by the same composer. The Ceaikovski program will include Romeo and Juliet fantasy overture and Manfred symphony.
Considered Poland's greatest living composer, Krzysztof Penderecki has composed during the years Threnody to the Victims of Hiroshima, St. Luke Passion, Polish Requiem, Anaklasis, four operas, eight symphonies and other orchestral pieces, a variety of instrumental concertos, choral settings of mainly religious texts, as well as chamber and instrumental works. During his life, Penderecki has won several prestigious awards, including the Commander's Cross in 1964, the Prix Italia in 1967 and 1968, the Knight's Cross of the Order of Polonia Restituta in 1964, three Grammy Awards in 1987, 1998 and 2001, and the University of Louisville Grawemeyer Award for Music Composition in 1992.
Tickets are available on www.bilete.ro , at the Romanian Postal Company offices, in the Inmedio shops labeled "Bilete.ro," in the Germanos retail chain and at the Radio Hall box office.
Oana Vasiliu