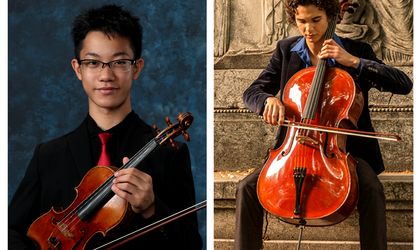 The Radio Hall organizes on March 25 the Euroradio Youth Concert, an event hosting two internationally acclaimed young musicians, Japanese violinist Rennosuke Fukuda and Spanish cellist Fermin Villanueva.
The concert, taking place under the baton of Gabriel Bebeselea, main conductor of the Romanian National Opera in Iasi and of the Sibiu Philharmonic, will include Concerto no. 2 in D minor for Violin and Orchestra by Polish composer Henryk Wieniawski, Concerto in D minor for Cello and Orchestra by French artist Edouard Lalo and Symphony no. 8 – Unfinished signed by Schubert.
The event is being organized under the auspices of the European Broadcasting Union (EBU), which provides further transmission to millions of potential listeners. This project aims to support and promote young musicians, winners of the competitions listed under the aegis of the European Union Youth Music Contest.
The concert can be heard live on Radio Romania Cultural all frequencies and Radio Romania Musical from home and live streaming on the Internet at www.romania-muzical.ro and www.radioromaniacultural.ro.
Tickets are available on www.eventim.ro, in Germanos, Orange, Vodafone, Domo, Carrefour, Carturesti, Humanitas, in OMV filling stations and the Radio Hall ticket office.
Natalia Martian