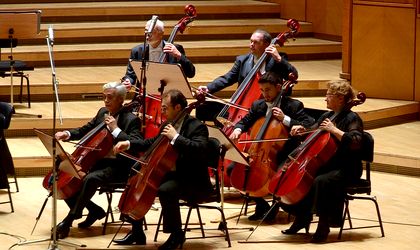 Wednesday, November 4th (19.00) Radio Chamber Orchestra, under the baton of Cristian Brancusi, presents Dinu-Mihai Stefan, a new generation pianist in a 100% Mozart Concert.
Dinu-Mihai Stefan, aged 28, graduated from the School of Music "Dinu Lipatti" in Bucharest and later pursued higher education in prestigious European institutions: Trinity Laban Conservatoire of Music and Dance (London) and the Royal College of Music (London). The young pianist later took part in a number of courses within some important music schools in Europe: University Mozarteum – Salzburg and Birmingham Conservatoire – UK. He played already in several cities in the United Kingdom, Austria, France and Romania.
In May 2014, Dinu-Mihai Stefan released his first album, Just Another Spring in London, which includes scores signed by Bach, Liszt, Scriabin and Enescu. His second album, Made in Trinity, includes works by Beethoven and Rachmaninov.
For the event at the Radio Hall, the young Romanian pianist will perform Concerto no. 14 in E flat major for piano and orchestra, signed by Mozart. The whole evening is devoted to the genius composer who, in only 35 years of life, has composed over 600 works, with the first scores being created at the age of just five. Of the 41 symphonies that he composed, the Radio Chamber Orchestra has chosen Symphony no. 28 in C Major and Symphony no. 40 in G minor.
The event is conducted by Cristian Brancusi, founding member of the Radio Chamber Orchestra and its chief conductor. His work as a conductor includes recordings for radio, television, film music, symphonic and opera. He was appreciated for concerts conducted abroad also, in Italy, Germany, Poland, Russia, Philippines, USA, Spain, Venezuela, Uruguay and others.
The concert will be available live on Radio Romania Cultural and Radio Romania Music and live streaming on the Internet and www.romania-muzical.ro and www.radiorormaniacultural.ro.
Tickets are available on www.eventim.ro, in Germanos, Orange, Vodafone, Domo, Carrefour, Carturesti and Humanitas shops, in OMV filling stations and at the Radio Hall ticket office.
Natalia Martian