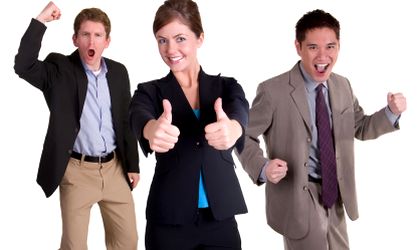 Romanian CEOs are confident in their companies' perspectives for revenue growth, with 86% somewhat or very confident of growth in the next 12 months and 39% very confident. On the longer run, 96% are somewhat or very confident of growth over the next three years and 49% very confident.
This is in line with global results, according to PwC's 17th Annual Global CEO Survey.
The number of CEOs who see improvement in the global economy over the next 12 months leapt to 44%, up from only 18% last year. And just 7% predict the global economy will decline, sharply down from 28% in 2013
CEOs in Central and Eastern Europe show the lowest level of confidence at 26%, yet Romanian CEOs are significantly more optimistic about the world economy, with 45% of respondents confident that the global economy will improve in the next 12 months, compared to just 13% last year.
"Surveys that measure expectations are very good lead indicators of economic trends. The significant increase in the number of CEOs confident in the near term growth of their companies' revenues might signal that we are moving into an expansion stage of the world economy, which will probably last longer (expansions are usually longer than recessions), but could have a slow growth rhythm. For example, in the US, before the onset of the recession in 2007, the economy grew for almost 16 years continuously (since 1991), with the single exception of two quarters in 2001, triggered by the 9/11 terrorist attacks. Yet, this does not guarantee that the future expansionary stage will last as long", stated Vasile Iuga (pictured), Country Managing Partner, PwC Romania.
By industry, CEOs in the Hospitality and Leisure sector are most confident about prospects for the next 12 months (46%), followed by those in
Banking and Capital Markets (45%),
Retail (44%),
Financial Services (44%),
Asset Management (44%),
Communications (44%),
Engineering Construction (41%).
CEOs in the Metals industry are least confident at 19%.