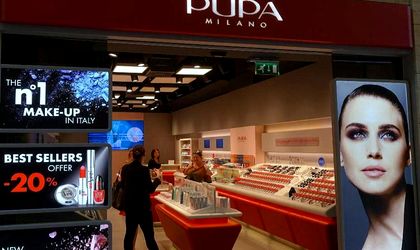 Italian cosmetics brand Pupa Milano will open two more store in Romania inside Iulius Mall Timisoara and Palas Mall Iasi, Iulius Management Center announces.
The store in Iulius Mall Timişoara opens this Thursday, the 31st of March 2016, while the second one is planned to open this summer.
Pupa Milano's products include make-up products, cosmetic treatments, perfume, bath care products and several cosmetics kits. The brand is owned by Micys Company, and Italian producer established in 1976 and operating in 70 countries.
Iulius Mall is an integral part of the upcoming Openville mixed-use urban ensemble developed by Iulius group near the mall, scheduled to be completed during the last quarter of 2017. The investment amounts to over EUR 220 million. Openville will comprise: 131,000 sqm of class A office spaces, over 450 stores, restaurants and themed cafes, 15 multiplex movie theater halls, a fresh market area, event halls and entertainment areas.
Palas Mall Iasi is part of the Palas Iasi urban ensemble opened in May 2012. An investment of EUR 265 million, the complex includes over 200 stores, six class A office buildings, event halls, a four star hotel and a 50,000 sqm park.
Natalia Martian