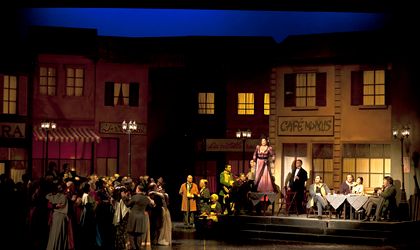 At the beginning of 2013, the Bucharest National Opera (ONB) has two new premieres: Puccini's "La Boheme" (in picture) and Caragiale's "A lost letter."
For the first time on the stage of the ONB, tenor Razvan Sararu will play the role of Rodolfo in Giacomo Puccini's "La Boheme." The performance will take place on Saturday, January 12, starting 19.00. Razvan Sararu is a soloist of the National Theatre of Opera and of the Constanta ballet company "Oleg Danovski." The cast includes Tina Munteanu, Dorina Chesei, Vicentiu Taranu, Marius Bolos, Stefan Schuller, Paul Basacopol, Ionut Gavrila, Adrian Ionescu, Constantin Negru. The conductor will be Vlad Conta.
Romanian author I.L.Caragiale is also staged at ONB. Romanian soprano Tina Munteanu will play Zoe, the main feminine character of "A lost letter." Signed by Dan Dediu and conducted by Tiberiu Soare, this performance reveals one of the best Romanian comedies. Together with soprano Tina Munteanu, on stage will be Stefan Popov, Andrei Lazar, Stefan Schuller, Florin Diaconescu, Vasile Chisiu, Daniel Pop, Liviu Indricau, Razvan Georgescu, Monica Petrica, Raul Oprea. 
Oana Vasiliu