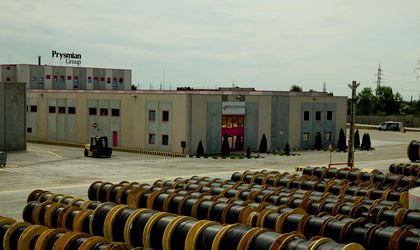 Italian Prysmian Group has opened a new plant for the manufacturing of optical fiber cable in Slatina, Southern Romania, in move designed to help the cable maker triple local production to accommodate higher demand from the telecom, energy and systems industry.
The Slatina factory stretches across 100,000 square meters, with a covered area of around 42,000 square meters. Following the latest investment, the plant will employ some 400 people and have a yearly output of 30,000 tons of energy cable, around 1.5 million km of optical fiber and 500,000 km of copper telecom cable.   
Valerio Battista, CEO Prysmian Group, said: "The investment in the new facility in Slatina is part of a major plan to further reinforce the Group's competitiveness in this fast-changing market."
"Many developments are taking place in the current telecoms market. New players and services are appearing and evolution in broadband, double-play and triple-play services is dynamic."
The investment in the local plant stands at EUR 15 million and is part of a wider growth program worth EUR 50 million developed by the group.
The Slatina factory started production in 1973. It was acquired by Siemens in 1996, which sold it to Pirelli Group three years later. Prysmian Cables & Systems purchased the plant in 2005 and rolled out new production lines.
The Italian group reported sales of around EUR 8 billion in 2012. The company operates 91 plants in 50 countries and has approximately 20,000 employees.
Ovidiu Posirca