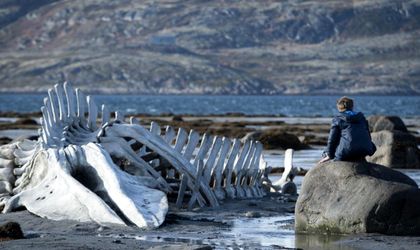 Nine foreign movies proposed for this year's Oscar Awards at Best Foreign Movie category will be screened in Bucharest, between January 9 and 15 at the Studio Cinema in Bucharest.
Two of the films presented are premieres, Canada's bid, Mommy by Xavier Dolan, and Italy's proposal, Human Capital by Paolo Virzi.
The screenings will start on Friday, January 9 with Romania's proposal, The Japanese Dog, by Tudor Cristian Jurgiu – the director's debut feature length movie.
Tickets for the screening can be bought from the Studio Cinema for the regular price.
Full program:
Friday, January 9, 2015
17.30: The Japanese Dog/ Cainele Japonez by Tudor Cristian Jurgiu (86 min.)
19.30: Mommy by Xavier Dolan (139 min.)
Saturday, January 10, 2015
15.00: The Lower Sky Limit/La limita de jos a cerului, by Igor Cobileanski (80 min.)
17.00: Leviathan by Andrei Zviaghințev  (86 min.)
20.00: Human Capital by Paolo Virzì (premiere) (111 min.)
Sunday, January 11, 2015
14.00: White God, by Kornél Mundruczó (119 min.)
17.00: Human Capital, by Paolo Virzì (111 min.)
19.30: Leviathan, by Andrei Zviaghințev  (140 min.)
Monday, January 12, 2015
17.00: Deux jours, une nuit, by Jean-Pierre & Luc Dardenne (95 min.)
19.30: Leviathan, by Andrei Zviaghințev  (140 min.)
Tuesday, January 13, 2015
17.00: Human Capital, by Paolo Virzì  (111 min.)
19.30: Winter Sleep, by Nuri Bilge Ceylan   (196 min.)
Wednesday, January 14, 2015
17.30: Ida, by Pawel Pawlikowski  (82 min.)
20.00: The Japanese Dog/ Câinele japonez, by Tudor Cristian Jurgiu  (86 min.)
Thursday, January 15, 2015
16.00: Leviathan, by Andrei Zviaghințev  (140 min.)
20.00: White God, by Kornél Mundruczó (119 min.)
Oana Vasiliu