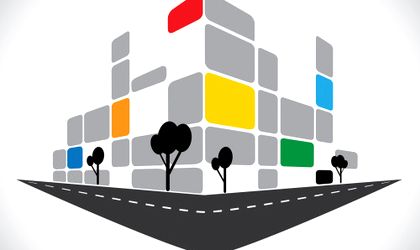 A Colliers International report analyzing the Romanian property market trends shows real estate is on an accelerated growth path, with the total volume of transactions expected to reach EUR 800 million by yearend.
"The performance of macroeconomic indicators boosted appetite for consumption and investment. Growing demand and low vacancy rates encouraged developers to launch new projects in the entire market. The industrial sector added new projects to a stock that has been constant in recent years and the investment market continues to experience remarkable results this year, with a total volume of transactions that could reach EUR 800 million for 2015," said Ilinca Paun, managing director of Colliers International.
With the outsourcing market increasingly visible in Romania, the office sector has been fast moving all throughout 2015 and emerging areas of Bucharest were contoured. The Floreasca – Barbu Vacarescu area has the greatest potential, according to the report.
The area has known a strong growth for the past five years, with over 195,000 sqm of being delivered since 2010. Of the total 315,000 available stock, 278,000 sqm are occupied and significant deliveries of over 155,000 sqm are expected by 2020.
During the period mentioned more than 215,000 sqm were leased, with the largest share (37 percent) taken by relocation from competitive share, followed by relocation from non-competitive stock (35 percent) and new demand (28 percent).
Commercial spaces also cast an optimistic look into the future, with an estimated 100,000 sqm expansion of retail (non-food) areas in Bucharest, taking it to a total of some 900,000 sqm during the next few years. This growth will be supported by increasing consumption, which has been on a positive trajectory (from an EUR 522 average per household in 2014 to EUR 537 in 2015) and is expected to reach EUR 603 per household in 2018.
The industrial sector, though slow moving for the past five years, has taken a new breath of air during the year and is expected to keep on the same path, with projects of up to 100,000 sqm being under construction at the moment, to be delivered by the end of 2016. The constancy of the sector stock has led to a low vacancy rate, dropping from 14.5 percent in 2012 to 8 percent in 2015, encouraging new investments with rent levels at EUR 3.5 – 4.15 per smq. Not only Bucharest enjoys this revival, the study shows, but also large cities across the country, like Timisoara, Arad, Brasov, Pitesti and so on.
For the past two years over 20 hectares of land have been transacted, with a potential for 2,000 residential units and 300,000 sqm of office area, the report states. Over EUR 150 million were invested in land plots during this period, 57 percent of it for office development, 24 percent for retail and 19 percent for residential.
Colliers International Group, a real estate consultancy company, employs 16,300 globally in 502 offices across 67 countries. In Romania Colliers International had 34 employees in 2014 and posted a turnover of some USD 5 million, according to consolidated data (including Colliers International and Colliers Valuation and Advisory) of the company.
Natalia Martian