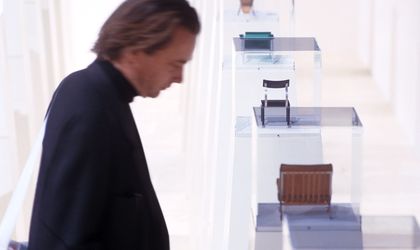 100 miniatures of classical seats which convey the history of the chair, from the Industrial Revolution to the artistic experimentation, will be exhibited at Promenada Mall, the latest mall in Bucharest, on the occasion of the opening of a new Cărturești Library.
The exhibition will unveil 100 fascinating prototypes of classical seats dating from between approx.1800 to 1990, presented in terms of nine chronological groups. Faithful reproductions of drawings, photographs and catalogues illustrate the path of development of the seats, from the first draft via production to their actual use. The exhibition offers a fantastic opportunity for those who wish to be part of an aesthetic universe closely linked to the art history over the last two centuries.
These classical chairs are exact 1:6 replicas of the originals, famous creations such as "Stuhl No. 14", the first chair ever made from bentwood signed by Michael Thonet, who laid the cornerstone of industrial production, or the "Barcelona" chair, a pioneer of modern furniture designed in 1929 for the Spanish Royal Family. Experimental models exploring the boundary between art and design will also be exhibited, such as "Bocca Lip Sofa", produced in homage to the Surrealist painter Salvador Dali, or "W.W. Stool", which was originally designed by Philippe Starck as part of a fantasy workspace for the German film director Wim Wenders.
The miniatures are produced by Vitra, the renowned Swiss furniture manufacturer that owns the rights to produce and distribute the extensive and highly coveted  Charles and Ray Eames collection. The exhibition is brought by Intro and Techo, the only Vitra dealers in Romania, with support from the Cărturești Library. The miniatures will be exhibited between October 22 and November 5tin Promenada, the highly cosmopolitan mall which will open on October 17 at Calea Floreasca 246B.
Oana Vasiliu