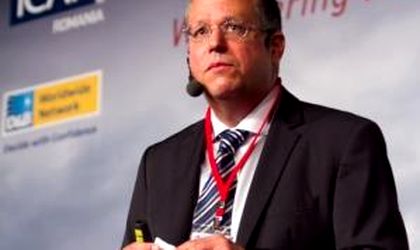 While the turnover of Romanian companies added 4.7 percent to RON 400 billion (EUR 92 billion)  by June 2012 against the same period of the previous year, their gross profit fell by 97.3 percent to RON 7.6 billion (EUR 1.7 billion), said Nikos Komninos, International Business executive director at ICAP Group, during Credit Risk Management Conference organized last week by ICAP Romania and CYCLE European, both members of ICAP Group, the largest business services provider in southeastern Europe, whose core business is credit risk assessments.
ICAP used data from 155,783 from Romanian companies in assessing their financial health.
"In Romania, the ratings are skewed towards the lower end of the scale. This is worst than the situation in other countries," said Komninos (in picture).
According an ICAP Romania study, 32 percent of Romanian companies have a low probability of default rates, while 20 percent of Romanian companies have a 7 percent default probability rate. The study further shows that one in two companies has a default probability of 14.5 percent.
Komninos suggested companies need to emphasize on cost reduction to improve their profitability.
Cristina Rusuleanu, CEO of Euler Hermes Europe, Bucharest Branch, said the number of insolvencies in Romania has risen from 14,000 in 2007 to 30,000 in 2012. Retail and constructions were the main sectors that generated insolvencies.
"Nowadays, clients file for insolvency to protect themselves from suppliers," said Rusuleanu. She explained this is also due to permissive legislation.
Edward Altman, professor at Stern Business School within New York University, held two key presentations on the techniques for estimating default probability and the default probability models.
Professor Altman spoke exclusively with Business Review about the fate of the Euro zone and Romania's ambition to join the beleaguered Euro zone in an interview that will be published next week.
Edward Altman is an expert of Credit Risk Analysis, Corporate Bankruptcy, High Yield Bonds and Distressed Debt. He was named one of the "100 most influential people in the world" by the Treasury and Risk Management publication.
Ovidiu Posirca