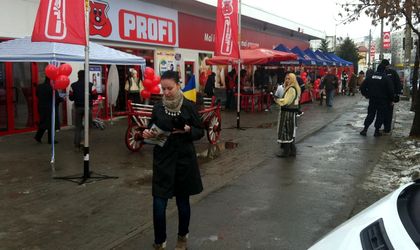 Grocery retailer Profi has resumed expansion by opening today its first stand-alone store in Bucharest and the 23rd in the capital. This is the first out of 45 outlets which will be opened this year and which will require investments of about EUR 18 million, said Cosmin Calugar, Profi Rom Food expansion manager during the store's opening event.
In addition to its existing proximity format, this year the Profi will launch two new smaller formats – Profi City which is adapted for large urban areas and Profi Loco which will be opened in rural areas. The first two such stores could be opened this May in Transylvania but the development in urban areas remains the company's focus.
Profi closed 2012 with a network of 149 stores, 45 of which were opened the same year.
The retailer said the business remained on an upward trend last year in terms of global as  well as like-for-like sales but the actual financial results for 2012 will be made public in a few weeks.
Profi reported in 2011 sales of RON 1.04 billion (approximately EUR 214.5 million), up 29 percent y-o-y. The growth was mainly generated by the opening of 26 new stores, while like-for-like sales growth was 7.5 percent.
Profi stores are owned by Enterprise Investors, a Polish private equity company that bought the retail network in 2010 from Duna Waiting Participation for EUR 66 million.
Simona Bazavan