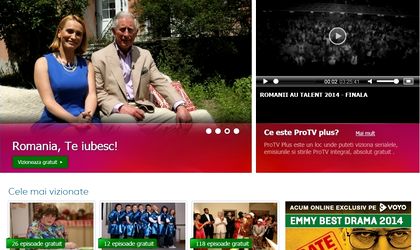 Pro TV announced the launch of Pro TV Plus, the first AVOD (audio/video on demand) online platform in its portfolio, that will be aggregating video content broadcast by the Central Media Enterprises channels Pro TV, Acasa TV and Sport.ro, the media company announced in a press release.
This launch was announced in June by Aleksandros Cesnavicius, general manager of Pro TV. The new video platform will have a business model based on advertising.
The online platform offers access to the shows on these channels a week after they are broadcast on TV.
The content is available free of charge at the link www.protvplus.ro. Viewers do not need to make a subscription or create a user account.
The content on the platform is split among several categories: the Pro TV News, series and shows such as Romanii au talent, Vocea Romaniei, MasterChef, Las Fierbinti, La Maruța, Romania, te iubesc, Apropo TV, Ce se intampla, doctore?, I like IT or Dansez pentru tine.
Pro TV also has a pay-per-view online video platform called Voyo. In June, Voyo.ro had 120,000 subscribers and shows are transmitted in real time.
Otilia Haraga