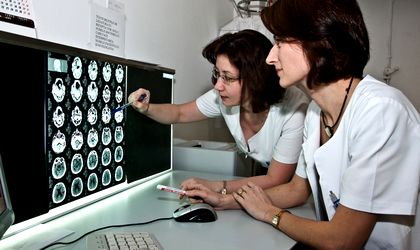 After meeting demand for basic service packages and establishing a footprint across Romania, private healthcare chains have understood that the key to future progress is to carve out a niche. Most of the new openings announced so far suggest that private players are trying to stand out from the competition by introducing new specializations on the market.
Otilia Haraga
Romanians are growing increasingly aware of the importance of going to the doctor, according to a survey carried out by IMAS at the request of MedLife. While last year 58 percent of respondents to the survey had not undergone a routine check-up, and only went to the doctor when they had health issues, in the past year 75 percent of Romanians said that they went at least once to the doctor.
"The private medical services market is still 'bathing in shallow waters' while the steps made towards a high-functioning medical system are still 'wavering'," Robert Chitan, director of promotion and development at Gral Medical, tells BR. "This is proven by the fact that private centers are still investing in diagnosis clinics, while private hospitals offer accommodation and a rather small list of surgical interventions. Courage and strength to believe in forgotten specialties must be mustered, even though the argument of immediate gain discourages entrepreneurs," says Chitan.
Last year, the most in demand medical services by patients were lab analysis, sought by 22.3 percent of respondents, George Straton, president of the Rentrop&Straton Group, tells BR, based on a survey entitled Services of the State and Private Medical Clinics, carried out between November 2011 and February 2012 by the market research division of the Romanian-German group.
These were followed by obstetrics and gynecology services, requested by 18.4 percent of respondents. Last but not least, general medicine services were also in demand, required by 13.1 percent of respondents.At the opposite pole, the least needed medical services were surgery, neurology, dermatology and rheumatology.Access to private medical services is among the most popular employee perks.
The survey, which relies on consumers' perceptions rather than on feedback from actors on the private medical services market, shows the main players last year were MedLife (as named by nearly a quarter of respondents), Regina Maria and Synevo (15 percent each), Medicover (9 percent), Sanador (8 percent) and MedCenter (7 percent).
The uptake of private medical services by nearly half of the respondents (42.6 percent) indicates that a significant part of the urban population prefers these to medical services provided by the state.
However, most Romanians (57.4 percent) continue to attend state-owned medical units to resolve their health problems. One reason is lack of money: last year, most of the respondents who received treatment in medical state units went there for economic reasons.
According to Catalina Balan, general manager of Medicover Romania, tells BR that the main problem is "the lack of regulations that should give everyone the chance to obtain treatment at European standards, to choose their supplier of medical services based on the quality of the medical procedures. At the moment, the majority are compelled to choose the state system, which is overwhelmed by the high demand and lacks the funds to provide the quality that patients need."
People who earn in excess of EUR 500 per month would generally rather go to a private clinic, while those who usually get treatment in state units tend to earn below this threshold.
"The market of medical services will certainly steer towards the private sector. It is only a matter of time until private medical services have the same coverage as those provided by the state. At the same time, the number of patients will grow and this will lead to a balance in costs and a drop in fees," predict Medas representatives.
Private services carve out a niche
The largest private medical operator, MedLife, has opened a pediatric hospital and an orthopedic hospital in the past year, both of which are premieres in private medicine in Romania.
Additionally, MedLife opened DermaLife (a Center of Excellence in Aesthetic Dermatology), a Center of Excellence in Herniology and a Center of Excellence in Thyroid Pathology.
"We are now preparing a new premiere on the market – the first private emergency hospital in Romania. We are in the process of obtaining authorizations," MedLife representatives tell BR.
To fuel this expansion, MedLife, which ended last year with a turnover of EUR 49 million, up 23 percent on the previous year, has already signed a contract for a syndicated loan of EUR 40 million, in partnership with the International Finance Corporation, member of World Bank Group, Erste Group and the Romanian Commercial Bank.
The loan is part of an investment program to be rolled out by 2015, which will also include MedLife's own funds. The money will be used for expanding operations, opening new units, as well as making acquisitions.
"We are competing on a par with clinics in the West. (…) Over the past five years, we have assisted with over 10,000 births and performed approximately 20,000 surgical interventions," say MedLife representatives.
Another major player on the Romanian market, Medicover, part of a group present in Romania and seven other European countries, is also working on adding new specializations.
Medicover has performed for the first time gastric sleeve surgery for morbid obesity on a patient. The network also performs laparoscopic treatment, vaginal surgery and the extirpation of giant tumors, while preserving fertility.
Furthermore, the firm performs coblation procedures, a new method in the ORL medical area which enables rapid and precise tissue removal with little or no damage to the surrounding tissue.
The firm posted a turnover of EUR 35 million last year. "However, the crisis and investments in the newest Medicover hospital have affected the EBITDA," say company representatives.
In July 2011, Medicover inaugurated the Center for Advanced Diagnosis in Bucharest, following a total investment of EUR 500,000, of which EUR 350,000 was spent on latest generation equipment.
The private chain also relocated the Medicover Pediatric Clinic to Victoriei Square. Similarly, the Iasi clinic was relocated to a central location, following EUR 300,000 of investments into new equipment and hiring 20 new physicians.
In January, the Medicover hospital, which comprises three operating theaters, two delivery suites, a pre-and post-surgery room and medical imagistics (CT, MRI, mammography and radiology), was inaugurated following an investment of EUR 20 million.
Another important player on the market of private medical services, Gral Medical, has managed to implement intensity modulated radiation therapy (IMRT), unique in Romania. A year earlier, the company introduced 3-D conformal radiotherapy (3D-CRT).
Gral Medical, which posted a turnover of EUR 15.2 million last year and estimates a 30 percent growth for 2012, runs a network of 24 centers – clinics, specialized centers and laboratories. Last year, the network added four new clinics, located in Focsani, Pitesti, Ploiesti and Craiova.
"Starting this year, we want to enlarge the network of Gral centers to all the major cities in Romania, while in the capital we will open the biggest fully automated laboratory. Towards the end of the year, we will enlarge the radio-therapy section of the OncoFort center by endowing it with ultra high-performing equipment," says Chitan.
For development plans in 2012, Gral Medical has allocated an investment budget of over EUR 3 million from its own resources.
Last year, Medsana focused on prevention, launching programs such as LadyCare (with the variant LadyCare+ for women over 40) for the prevention of cervical cancer, breast cancer and a series of gynecological conditions. The NutriCare program aims to help prevent obesity, diabetes and metabolic diseases, while the Cardio Care program aims to counter cardio-vascular diseases. Last but not least, Medsana also offers the Pregnancy Step by Step program, a package of lab analyses for each of the pregnancy trimesters.
The network has developed its range of medical tests by including more complex lab examinations (especially genetic).
"In the current economic context, our company has postponed many of its expansion plans, including the project to open a generalist hospital following a prudent investment strategy imposed by our group," Vassilis Chaniotis, general manager of Medsana Medical Center, tells BR.
The network will expand its range of medical services. "These investments would involve, according to our calculations, a budget of approximately EUR 30 million," Chaniotis says, adding that the network has the necessary finance available but is waiting for the right time to move.
Medas, which posted a turnover of RON 34.5 million (EUR 8.1 million), up 46 percent on the previous year, has also announced plans for new openings and specializations. "We estimate an investment of EUR 20 million for the new projects that we will begin. When possible, we will use non-reimbursable European funds for dedicated projects," say Medas representatives.
First and foremost, the chain will soon open a hospital for the surgical treatment of uro-genital conditions, with an investment of approximately EUR 4 million. The unit will have over 100 employees and 40 beds for continuous hospitalization.
"By the end of 2012 we aim to open another hospital about which we will give more details when the time is right," say Medas representatives.
At the end of June, the private chain opened its first niche clinic, Medas Feminis, specialized in materno-fetal medicine. Meanwhile, the clinic Medas Unirea will include an out-patient section for diabetes sufferers.
In August, Medas will also open a clinic dedicated to alternative and complementary medicine which will provide natural and homeopathic treatments, acupuncture, reflexo-therapy, bioresonance, aromatherapy, therapeutic and relaxation massage.
"We are about to start a campaign to expand to other locations where we will be present with medical analysis labs and specialty ambulatory services," Medas representatives say.
Last year Renasterea Foundation, an organization which has been involved in fighting breast cancer in Romania for more than ten years, opened a Medical Center for Excellence in diagnosis following an investment of EUR 2.3 million, out of which EUR 1.85 million came through an EEA grant. Renasterea Foundation co-financed the center with EUR 345,000.
The center has a Digital Mammography Siemens Mammomat Inspiration, a high-tech piece of equipment with the lowest radiation level, the first of its kind in Romania. One of the added values of the center is its anatomo-pathology and imunohistochemistry lab. Equipped with advanced technology units, the lab can provide an identification of the type of cancer cell in less than 75 minutes. Usually, this kind of procedure takes several days.
The reading of the samples is done with a Zeiss digital microscope that enables the transmission of images for second-opinion reading from cancer specialists working with the Vienna-based AKH clinic and the Anadoul-Istanbul one, with which the center has institutional agreements.
High expenses and challenges
One of the biggest expenses budgeted by private networks in expansion is acquiring new equipment. According to MedLife, the highest costs in the network are the investments in the latest generation technology.
"We have in our network 3T MRI, digital mammographies, multi-slice CT, digital radiology, high-performance lasers for ORL (oto-rhino-laryngology) and dermatology and the Emax platform we have available in DermaLife center is unique in Romania," say MedLife representatives.
So far, the steepest costs identified by the Gral Medical representative is acquisitions, because these are accompanied by the takeover of the medical staff, rebranding and adjusting procedures to the new standards, which is expensive. Meanwhile, the ongoing costs of the continued modernization of existing clinics cannot be overlooked, adds Chaniotis.
Against the background of the constant expansion of the private chains, there is a health workforce crisis in Romania which bodes badly for the EU as well.
Lack of health professionals pose an acute problem for policy makers in Romania as a result of rising migration after EU accession, the economic crisis, and inadequate planning and management, Adriana Galan, of the National Institute of Public Health, said during the Romania-Bulgaria Healthcare and Medical Conference that took place last week.
A major cost that is forgotten by many players is that of a specialized medical team, Chitan points out.
"While private networks often acquire medical equipment, the medical staff is not specialized outside the country," he adds. Medics in Romania are increasingly dissatisfied and unmotivated, with lower salaries (after 25 percent salary cuts in 2010), the threat of unemployment due to hospital sector reform, and low social status, said Galan.
In fact, staff costs are always cited by private medical chains as being among the highest expenses. "From an operational standpoint, our highest cost is the personnel – a highly reputed medical team, together with the middle and administrative staff, means higher costs," says Chaniotis.
In the last ten years, the number of applicants to medical universities has fallen from seven-eight candidates per position to only 0.9 candidates per position at the Medical School in Bucharest, said Galan.
Romania is basically a source country at the moment. France, Germany, Italy and the UK seem to be the favorite destination countries, mainly due to their active recruiting policies. The most sought after medical specialties abroad are family medicine, intensive care, emergency care and psychiatry, says Galan.
To counterbalance the drain of medical staff, Romania is offering medical school scholarships for students from the Republic of Moldova, who are most likely to practice in Romania after graduation.
At the moment, there are imbalances in the geographical distribution of physicians. Most medics, especially physicians, are concentrated in the big university cities – Bucharest, Cluj-Napoca, Iasi and Timisoara – and in the most economically developed regions.
The situation is even worse in primary healthcare, where rural dwellers have the most trouble accessing medical care due to factors such as migration and urbanization, population ageing and the age of doctors.
Players on the private medical services market offer their perspective: "The so-called 'exodus of medics' – which is real – is not as extensive as believed. Furthermore, the socio-economic conditions in other European countries have changed radically and have seen many of those who left three-four years ago come back," say Medas representatives.
The positive side to this is that they are coming with new and innovative experience in medical care. The less positive side for Romanian employers is that the price of the labor force has increased as a result of this professional experience gained abroad, they say.
"Problems in personnel recruitment exist even in times of economic calm, but are even worse in times of crisis like this. The advantage of the private medical system is that it is highly malleable and adaptable to the current economic conditions and we manage to cope better than the state system where inertia acts as a significant break," say Medas representatives.
Picture courtesy of MedLife.