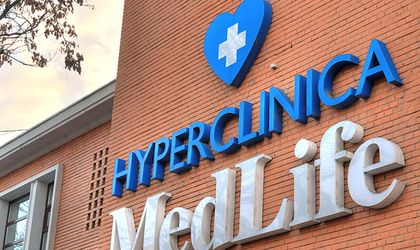 Mihail Marcu, president of the board at MedLife, the biggest private healthcare services provider in Romania, says concerns surrounding the brain drain in the medical field are exaggerated and that smaller clinics providing a full array of services are now facing insolvency. He believes the local market, worth EUR 350 million, is starting to consolidate, and that the entry bar is getting higher for newcomers. The company is set to invest around EUR 4 million in opening four new clinics across the country this year.
[restrict]
Are you grappling with an exodus of doctors?
This is a false problem. We will have an issue in 10-15 years because the students have left, not the physicians. A physician usually reaches peak performance at around 40, but they have family and kids and did not leave.
The problem has been that the high flyers within the student ranks have left, and this will be felt in the next 10 years. The generation reaching 40 in the next 10 years has some gaps, but this is not a liability at present.
In addition, physicians going abroad and becoming famous surgeons – this is just a story. Many of the local doctors who emigrate work in rural areas abroad. In the meantime, many have said they want to come back. I am not referring to the young ones.
The top physicians in Romania have not gone abroad – maybe a few, but not enough for it to be a liability. We do not face any issue with medics wanting to emigrate.
At one time a lot of doctors were leaving but this is no longer happening. Furthermore, physicians are not that well paid abroad. In the US, the UK and maybe in France the pay is higher, but in Austria and Germany, the wages are comparable to the private system in Romania. At present we have 1,300 physicians and we plan to hire another 200 this year.
Does MedLife aim to acquire well-established clinics in the market?
At the moment, we do not consider this opportune, but nor do we rule it out. There is no established plan to buy a clinic. As we are planning to (e.n. further) develop outside Bucharest, there are no clinics comparable to ours.
Is there room for new players in the local market?
We are a young market if we look at the figures, but at the same time we are seeing a concentration of the business, with the market starting to consolidate, and the entry bar is getting higher.
A lot of hospitals and clinics that were opened in the past few years are now in insolvency, or are facing the prospect.
Why are these private players going into administration?
Generally, they focused on hospital units. Hospitals are dependent on contracts with the National Healthcare Insurance House (CNAS) or having a very big pipeline of patients.
MedLife has a lot of subscribers and patients paying cash, and is in a leading position so has the capacity to attract patients
There are, however, a lot of medium-sized clinics, which, if they did not specialize and attempted to provide general services, have lost the fight with large players in the past year or two.
Do you expect new insolvencies this year?
It will be a notable year from this point of view. We are talking about players in the second league, with a turnover below EUR 5 million.
What is the size of the private healthcare market?
If we look at the private healthcare services market paid from private money, it stands at around EUR 300-350 million. If we look at the overall market, including state reimbursements, we are talking about another EUR 200-300 million. This includes some of the main services paid for by the state such as dialysis and chemotherapy.
Our turnover amounted to EUR 73 million last year, of which around 5 percent was generated in relation to the state. Our share in the private market stands at over 20 percent.
What are the main challenges of the private healthcare system?
Fiscal unpredictability, with changes happening overnight, the lack of transparency of the public system and the public system's resistance to change. For instance, Turkey has reached its current position in the medical field with state funding. Let us not imagine everything happened overnight and that they are smarter. Ten years ago, a physician was proud of having graduated from medical school in Romania, and they have gained a lot of knowhow from us. In Turkey, private hospitals have received a lot of funds. Large groups such as Acibaden and Anadolu have huge revenues from the Turkish state. The same goes for AKH Hospital in Austria, which is subsidized by the state.
Can the private healthcare system in Romania handle complex cases?
Absolutely, without any doubt. Often – and more frequently – it handles more complex cases than the state. There are hospitals in Romania that have very good results in this area, and I am not referring only to MedLife.
Do you have foreign patients coming to Romania for treatment? Is this a trend in the market?
I would say there are a few cases. We have demand in certain fields, such as genetics and in vitro fertilization. For surgery, it happens only if they have problems here; we do not have people getting on a plane to come here for surgery. We are starting to see more coming in for dentistry services. This is an area that can probably be looked into more thoroughly going forward. We have clients only from Western Europe.
Do you bring foreign specialists to work in your clinics?
We are bringing several professors from AKH Vienna, from Belgium, in the surgery field, but this is not a major trend. We have our own top surgeons doing a very good job.
What can you tell me about the commission within the Ministry of Health that allocates the distribution of public funds in the private market?
There is a commission but nobody knows who its members are because this has never been announced. There is a complex norm which states how funding is funneled towards private hospitals and how it is not. The fine print says that exceptions can be made by the joint commission of the CNAS and Ministry of Health. There are multiple exceptions. I often do not know how it happens but MedLife is always outside the exceptions. Many private players received this funding, but the thing is that some of those that were granted this funding are close to closing down their operations. We do not know anything about this commission; it is a twilight zone. They are granting funds to private players so as to provide healthcare services to insured patients.
How can we move from cash payment to private healthcare insurance in the private sector? Who should take this initiative?
Nobody should get involved because neither the Poles, the Czechs nor the Hungarians were able to do it. No market that is a former member of the Communist bloc has significant volumes of voluntary private healthcare insurance. The historical mentality is that you do not need private healthcare insurance. I reckon we might change this in the next 20 years. I do not believe in private healthcare insurance, only if the provision of public healthcare services is massively cut.
Do you think the roll out of a basic package of public healthcare services is a start?
The services need to be clearly defined. When I say massive, I am referring to the fact that a patient with state insurance would expect to wait seven to ten months for surgery.
Is the private healthcare system grappling with corruption?
Studies show that a small proportion of Romanian patients have made informal payments in the private system.
But the same happens in Germany, so let us not imagine that the private sector in Romania is different from the private sector in Western Europe. If a doctor wants to take money, it will happen. I guarantee that informal payments can be made to doctors abroad. Of course, as in the local private sector, this is not an extensive practice. One case out of 1,000.
We have statistics at our company, which show that informal payments are well below 1 percent. Probably we are talking about one or two cases out of 1,000. These are marginal, similar to Western Europe.
What are your business expectations this year?
We aim to bring the EBITDA to around EUR 12 million this year and will grow in line with the business. We expect double-digit turnover growth. We have been growing organically, by expanding our market share for years, and the dynamics show this. The new clinics play their own role, but it is marginal in the first year, especially because they have reported a negative EBITDA in the first year.
This year we plan to open four new clinics. By summer, we will have new clinics in Galati and Iasi, and by the end of this year, we will open facilities in Cluj and Constanta. They will require roughly EUR 4 million in new investment, at about EUR 1 million each. These buildings are leased and most of the money will go on equipment.
How many subscribers does MedLife have right now?
We have around 4,500 corporate clients right now, and 2 million patients paying by cash in our clinics. We will grow further this year. We do not plan to hike prices but increase the number of services.
What can you tell me about the average MedLife patient?
In Bucharest, their average income is higher than for the rest of the country, but the average household income stands at around EUR 1,000.
[/restrict]