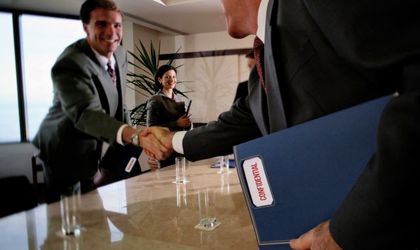 With deal-making by private equity players on the local market subdued by the economic crisis, and hovering around EUR 60 million over the past three years, more exits from companies with maturing investments may be imminent, while newcomers will be hard to come by, reckon pundits.
[restrict]
The number and value of deals has significantly dropped in the crisis period, with 2013 possibly being weaker than the previous years in terms of private equity (PE) deals concluded in Romania, according to Cornelia Bumbacea, partner, deals, at professional services firm PwC Romania.
"Although PE fund managers have looked at various businesses, reached preliminary agreements with owners on price and performed due diligence exercises in some instances, only a few PE deals reached final closure last year. Given the moderate optimism for 2014, deal activity is likely to pick up," Bumbacea told BR.
"As some private equity funds have spent up their endowments and their investments have already reached maturity, we expect to see a number of exits this year. Opportunistic exits can always happen where there is an increased chance of getting a very good deal," said Bumbacea.
Gap between buyers' and sellers' expectations persists
Meanwhile, Cristian Nacu, partner at Poland-based PE fund Enterprise Investors (EI), points out that no more than EUR 50-60 million has been put to work annually in the last three years.
"For us in private equity, which targets growth and profitability, it has been hard to find attractive targets," Nacu told BR. He reckons this year will not be "significantly different" although perceptions of the economy have started to improve, due to better macro figures last year.
Nacu reckons Romania could see more exits this year, as a lot of PE investments have reached a certain maturity.
"In the region, there have been more exits in the recent period. In general, companies controlled by PE have done better in the crisis than others, because we established better management, and prepared the company for tougher times. Statistically speaking, even at a European level, companies owned by PE have done better during the crisis and maybe they were more attractive for an exit than the rest of the market," commented the EI partner. Last year the fund sold its stake in Siveco, the Romanian software company.
Nacu said the local portfolio had performed from "well to very good" in 2013. He added that retailer Profi had expanded aggressively, more than tripling its national network to over 200 stores in three years.
Construction material group Macon has been back in the black for two years, while Smartree registered constant growth. "We are satisfied with its evolution and we are on chart with the growth we targeted. We do not exclude acquisitions for Smartree going forward," said Nacu.
Horia Manda, managing partner at Axxess Capital Partners, the investment manager of three private equity funds, said the companies in the portfolio registered a "good performance last year", adding that the overachievers were financial services provider Patria Credit, toy retailer Noriel, security firm Bitdefender and energy company SE-GES.
Mihai Pop, manager within the transaction advisory services department at the professional services firm EY Romania, predicts that more processes might start, but the number of exits will not necessarily rise, with some serving as preparation for the coming years.
According to Manda of Axxess Capital, new exits may come this year, but the market is grappling with the unrealistic expectations of entrepreneurs courted to sell their businesses to PE funds.
"We are hopeful that 2014 will bring a narrower gap between investors' valuations and entrepreneurs' expectations. In recent years, unfortunately, the reluctance of entrepreneurs to accept a realistic evaluation of their companies based on market conditions have plagued the M&A market and brought otherwise salvageable enterprises to the edge of the cliff," Manda told BR.
Axxess Capital Partners last year acquired paints producer Deutek through its Emerging Europe Accession Fund (EEAF) from PE group Advent International. Furthermore, the EEAF added a majority stake in Nextebank following a deal with MKB and a EUR 5 million investment into Start Storage, a local provider of storage, outsourcing and cloud solutions.
How to attract PE
Nacu of EI comments that a company aiming to catch the eye of PE players needs to have registered constant growth in recent years, to be profitable and have strong management. In addition, it needs to be a market leader or have the potential to become one, and to be active in a market that shows signs of future growth even if it looks flat at present.
Florian Nitu, managing partner at law firm Popovici Nitu & Asociatii, told BR that PE giants have been able to put up new funds on the back of improved performances in mature financial markets. This means that new players may join the local market, he added, tipping energy projects, healthcare, and the logistics and distribution sectors as potentially attractive fields.
Manda of Axxess Capital sees good potential in IT, financial services and the building materials sector.
"Investment decisions in private equity are heavily dependent on the individual fund's restrictions on ticket size and focus sector. On the local market, with only a handful of PE players, this means that some sectors will inadvertently be left out," said Manda.
Although the financial services sector is expected to host a number of important transactions, PE groups will drive a limited number of deals, according to Pop of EY. He commented that sectors such as business and professional services, consumer goods and services, and real estate are expected to appear on investment radars.
Bumbacea of PwC said, "Whilst no sector seems a clear favorite for private equity, given that the relatively higher economic growth experienced during the second half of 2013 was not mirrored by similar growth in personal spending and consumption, one may expect business services and selected industrial sectors to be favored to some extent over sectors driven by consumer spending or highly dependent on consumer finance."
"Expanding and gaining market share may still be the driving factors behind some portfolios' bolt-on acquisitions, even in sectors that haven't enjoyed impressive performances over the last few years," she added.
Renewable energy has been an attractive sector for PE funds in the past few years, but the legal changes have "rocked the confidence of some" in the sector, according to the EI partner.
"We have in Poland a company that makes investments in wind, and at some point we had the idea of coming to Romania with that company, but at present it is on hold. That company is acquiring projects," said Nacu.
The sector has attracted over EUR 5 billion in investments in the past four years. Large foreign utility firms have poured money into local projects, mainly wind, now in the red after the government deferred some green certificates through to 2017.
Nacu added that there are also opportunities in banking, but the deals are more complex because the central bank has to decide whether to let a PE fund become a shareholder in a lender.
"In recent years, there has been some reluctance in this area. The main motivation of the central bank was probably that investment funds by definition have limited funds over time, and that there probably needs to be unlimited availability to fund banks at some point," said Nacu.
Local economy shaped by elections
Representatives of PE funds reckon the economy will grow by over 2 percent this year, but any estimate has to take into account the forthcoming elections. Romania is set to hold its ballot for the European Parliament in May and presidential elections will follow in November.
"The political instability currently unfolding and the uncertainty brought about by abrupt changes to the fiscal policy may yet again prove to be powerful deterrents for investors," said Manda of Axxess Capital Partners.
Nacu of EI suggested that this year the government could focus on finding measures to stimulate not only domestic consumption, but economic growth. He added that the situation in the Euro zone greatly influences investors' sentiment regarding Romania, which is heavily dependent on the bloc of nations, especially on exports.
Manda of Axxess Capital notes that the local economy relies on EU partners largely for cash inflows from exports and investments, and banking activity.
"Naturally, any worsening of the Euro zone situation sends ripples that, directly or indirectly, have an adverse effect on both the local economy and the local PE market. Last, but not least, let's not forget that most of the financing that local PE funds raise comes directly from institutions that operate in the Euro zone. Fortunately, now, the Euro zone distress seems to have somewhat been brought under control and we do not expect any major negative developments in the near future," said Manda.
The EC last week tipped the Euro zone economy to gain 1.2 percent this year.
Ovidiu Posirca
[/restrict]