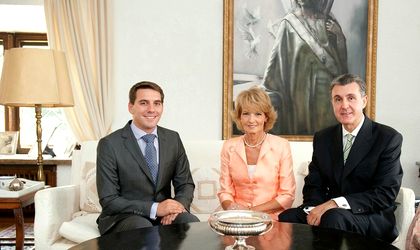 On the occasion of the proclamation of the Kingdom of Romania in 1881, and the birthday of Princess Margareta, Peles Castle will host a royal award ceremony and dinner. At this event will take part Princess Margareta, Prince Nicolae and Prince Radu.
Also, Princess Margareta will decorate on behalf of His Majesty the King, personalities from Romania, Switzerland , UK, France and Japan. Among the distinguished are Professor Avinoam Safran, director David Esrig, Bogdan Olteanu, Florin Georgescu, Ambassador Philippe Gustin , Simina Mezincescu, Andrew Popper, Adrian Vasiliu, Dr. Jonathan Eyal, Constanta Iorga, Irina Schrotter, Ambassador Răduţa Matache , Victoria McDonaugh and Lady Francesca Crocetta .
The ceremonies will take place in the Hall of Honor and will be followed by an official dinner in the State Dining Room. This is the first time after 1947 when the State Dining Room hosts an official dinner.
Photo courtesy of http://casa-regala.blogspot.ro/
Oana Vasiliu