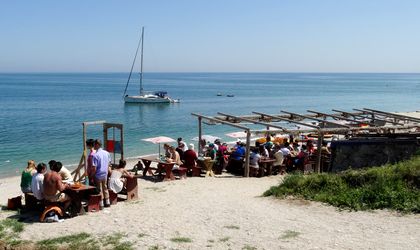 Hoteliers on the coastline and from the Danube Delta have special offers for the Pentecost mini-holiday, these starting from RON 50 (EUR 11) per person per night and going up to RON 325 (EUR 73) per person per night, these prices including pool, sauna or gym access.
According to a Litoral-Delta Dunarii Association's press release, in Mamaia, Pentecost mini-holiday prices start from RON 50 per person for one night in a two star hotel and reach RON 325 per person per night, with breakfast, access to the beach, swimming pool, gym and playground in a five-star hotel.
In Eforie Nord, tourists going to the seaside over the Pentecost weekend will pay RON 70 (EUR 16) per night in three star hotels, with breakfast included, and RON 265 (EUR 60) per person per night, half board, spa and activities for children in the four-star hotels.
In the Venus resort, the rates are RON 81 (EUR 18) per person per night in a four star hotel, with breakfast included, artistic program, pool, fitness.
Also, in the Pentecost mini-holiday tourists will have various seaside recreational opportunities, including an exhibition of flowers and decorative plants in Mamaia, concerts occasioned by the Days of Ovidiu, an ethno-jazz festival in Tulcea, sports and dance competitions.
Tourists who choose to spend the weekend on the coast will be able to take the gondola in Mamaia, the zipline at Modern beach in Constanta, visit museums, cruise on Lake Ovidiu to Ovidiu Island, taste Murfatlar wine, take sightseeing flights to Tuzla, Jeep Safari at Cheile Dobrogei, make local tours and excursions to monasteries and fortresses in the county.
Staff