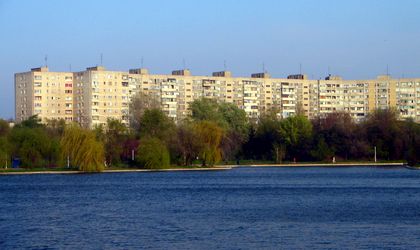 Asking prices for old apartments in Bucharest have dropped by more than half between the spring of 2008, the peak of the Romanian residential market, and this April, according to data from real estate portal Imobiliare.ro. Old apartments built before 1990 make up the bulk of residential transactions.
The capital Bucharest reported the most significant price drops.
The steepest slump – almost 57 percent – was reported for studio apartments. If back in March 2008, before the collapse of the residential market, owners were asking on average EUR 82,086 for a studio apartment, this April average asking prices stood at EUR 35,600.  Asking process for one-bedroom apartments dropped by 55 percent (from EUR 123,003 in 2008 to EUR 55,154 in April) and 54 percent for two-bedroom apartments (from EUR 149,361 in 2008 to EUR 68,082 in this April).
Overall, the average asking price of old apartments is EUR 1,011 /sqm at present compared to 1,192/sqm for new apartments, according to data previously provided by Imobiliare.ro. The average per square price for new apartments in Bucharest has dropped by 54 percent between March 2008 and the first part of 2014.
Average apartment prices in the  main cities outside Bucharest have reported lower price drops compared to the capital.
City                                                  Average decrease              Average price in April 2014 (EUR)
Bucharest
-Studio apartments                                     -57%                                                35,600
-One-bedroom apartments                     -55%                                                 55,154
-Two-bedroom apartments                    -54%                                                 68,082
Timisoara
-Studio apartments                                    -45%                                                 26,211
-One-bedroom apartments                     -42%                                                43,954
-Two-bedroom apartments                    -39%                                                 54,550
Brasov
-Studio apartments                                     -42%                                              25,885
-One-bedroom apartments                      -50%                                              41,992
-Two-bedroom apartments                      -46%                                              56,786
Cluj-Napoca
-Studio apartments                                    -41%                                                33,224
-One-bedroom apartments                    -32%                                                50,419
-Two-bedroom apartments                    -45%                                               67,089
Constanta
-Studio apartments                                   -39%                                                 27,659
-One-bedroom apartments                    -46%                                                42,456
-Two-bedroom apartments                   -44%                                                 59,264
Iasi
-Studio apartments                                   -50%                                                     23,639
-One-bedroom apartments                    -46%                                                    37,055
-Two-bedroom apartments                    -41%                                                    49,778
Source: Imobiliare.ro