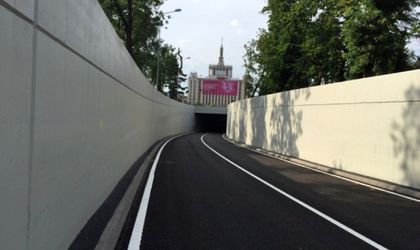 The Press Square underpass with a length of about 800 meters, two inputs and one output, was open for use, according to Mediafax.
The construction was completed behind schedule and took an investment of RON 60.4 million (EUR 13.7 million). After inauguration, the first cars passed through the passage on Sunday at 09:45.
"The passage was opened two months late because of underground networks that were found in the area. There are two inputs and one output and it has a length of approximately 800 meters. The passage streamlines circulation by about 30 percent. It is estimated that 2,000 vehicles per hour will circulate through it," said mayor Sorin Oprescu.
The mayor added that traffic will be monitored in the area during the following period, in order to make necessary adjustments to the traffic lights. Oprescu also said that, if proven necessary, an underground pedestrian passage could be built in the area formerly occupied bu the Ministry of Culture.
The pedestrian underpass in the area held an exhibit of Bucharest photographs. Two elevators for the disabled are designed to be added to it.
The Press Square underpass is located at the intersection of four streets with high traffic – Bucharest-Ploiesti highway, Kiseleff Boulevard, Marasti Avenue and Poligrafiei Boulevard.
The investment is worth RON 60.4 million, without VAT.
The passage crosses the square underground, from North to South, towards the centre of the city and the connection between Bucharest-Ploiesti highway and Kiseleff road is made on two lanes. Underground a separate tape breaks off, which connects to Marasti Boulevard.
Also, movement on the surface will take place, as before, through a traffic light crossroad and pedestrian traffic across Kiseleff will be near the old pedestrian passage, on a new walkway which replaced the old ground crosswalk between Herastrau and the urban transport terminal. A new transport station was placed on Kiseleff and the old stations were relocated.
Representatives of City Hall say that the passage optimizes circulation in the Press Square intersection, between Kiseleff and the Triumph Arc, Marasti Avenue and Expozitiei Boulevard and streamlines traffic in the intersection by directing underground the main flow of cars coming from Miorita Fountain – Marasti Avenue.
Natalia Martian