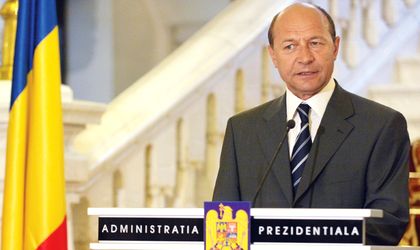 President Traian Basescu signed on Wednesday the request of re-examination by the Parliament of the law on the 5 percent social contributions cut for employers, writes Agerpres.
The official pointed out that the law he received for signing aims at cutting the social contribution quotas for employers, depending on the working conditions, as follows: from 20.8 percent to 15.8 percent for normal working conditions; from 25.8 percent to 10.8 percent for difficult working conditions; and from 30.8 percent to 25.8 percent for special and other working conditions. The President mentioned that the deficit of the 2014 social insurance budget is 12.519 billion lei, already approved.
'By reducing the quotas paid by employers as social insurance contributions to the public pensions system, based on working conditions, the current deficit will grow by the negative financial impact estimated in the justification note of the normative act, which goes from 4.860 billion lei in 2015 to 5.564 billion lei in 2018, resulting in a deficit of more than 18 billion lei for the pension fund in 2015, if we consider the mandatory indexing under the law,' Basescu explained.
President Basescu argued that although the Government mentions certain compensation measures that make short term, long term they are very vague. The head of the states asserts that if the social contribution cuts are not compensated, Romania runs the risk of termination of its agreement with the IMF, the EC and the World Bank.
Moreover, Basescu believes that the Government is in a rush to pass the law and maybe it would be more appropriate to cut social contributions from January 2015, after a new IMF delegation visits the country and after the budget is finalized.
"The correct solution seems to me would be for the Government to discuss solutions with the Fund and EU for compensating the excess deficit in the pension fund. This would categorically prevent an IMF deal breakdown", the president argued.