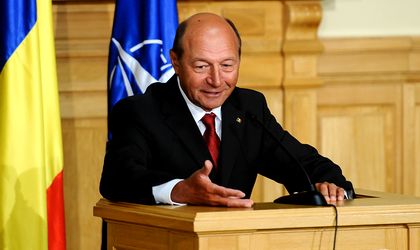 Romanian President Traian Basescu said on Monday the draft bill giving the green light to RMGC to start mining for gold and silver in Rosia Montana is unconstitutional, as the Parliament plans to set up a special commission to debate the project.
The president claims that the Rosia Montana debacle will harm Romania's image in the eyes of foreign investors.
"We know that an unconstitutional bill has been pushed in Parliament, which can not be passed by the Constitutional Court. Based on it we generate a debate that will conclude with an unconstitutional law. How can we have a good image, when even the foreigners know our constitution?", said the president during the European Forum for Public Diplomacy. He urged the government to withdraw the bill.
PM Ponta swiftly responded, suggesting that President Basescu is trying to "impede" a project he supported for many years. He said the president approved in the past laws regarding oil majors Petrom, Rompetrol and US engineering group Bechtel.
MPs are set to discuss on Tuesday the appointment of a special commission, whose task is to analyze the Rosia Montana project. The draft bill was initially supposed to get through an urgent debate in the two chambers of the Parliament, after PM Ponta hinted the project was likely to fail due to insufficient political support. This procedure was dropped and the newly designed commission will collect opinions regarding the project.
Meanwhile, protests against RMGC, the miner controlled by Canada-listed Gabriel Resources, have been staged across Romania for more than two weeks. People are calling for the resignation the Ponta government and the cancellation of the mining project, which they say runs a high pollution risk.
According to media reports, some 15,000 people took to the streets in Bucharest on Sunday and several thousands also rallied in several large cities such as Cluj, Timisoara and Iasi.
Over one hundred people gathered in Rosia Montana, in support of the project, and 33 miners blockaded themselves in a mine, threatening to go on strike unless government officials visited them.
Following the PM's visit on Sunday, the miners concluded their protest and exited the mine.
The temporary contracts of 350 out of 500 employees of RMGC are set to expire this month, according to Agerpres newswire.
Ovidiu Posirca