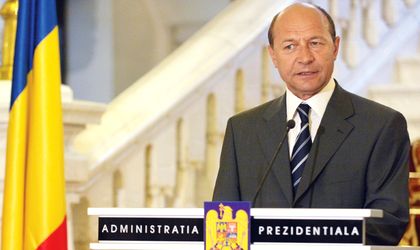 President Traian Basescu requested from the Parliament that the entire "administration board of the Financial Surveillance Authority" be sacked, stating that it is a "cesspit for political clients".
"ASF is a cesspit where all the political clients found themselves stationed while at the same time they prove to be profoundly incompetent and unprepared for the job, wether were talking about Dan Radu Rusanu, Daniel Daianu, Ursache, mister Chitoiu's wife or Dan Mircea Popescu. (…) This entire cesspit must be cleaned and ASF be turned into a institution with professional and moral authority", the President explained in a special press conference, held on Wednesday night.
The President said that Dan Radu Rusanu has absolutely no connection to the capital market and the taxes that ASF imposes are meant to sustain their salaries. Otherwise they are unlawful and make things difficult for companies on the Romanian market.
"If you look closely at the ASF clientele and its incompetence it looks like an offspring of USL. You find relatives, godfathers, brothers-in-law, the whole list of family. USL's family tree, that is what the ASF is, and it is representative for nepotism and for incompetence", the president specified.
Traian Basescu demands of the Parliament, the only authority that controls the ASF, to take its role seriously and clean-out the supervisory institution immediately, by organizing a new management selection process and the hiring new personnel.
"We can not fool around with a 10 billion euro market", the president specified.
Recently, information was leaked to the press about huge salaries paid to ASF board members, most of which are related (by marriage or by family) to members of the USL party. For instance, Laura Elena Chitoiu is on the ASF board, the wife of former Finance Minister, Daniel Chitoiu. Also on the board we find Mariana Campeanu's (Labour minister) son, Valeriu Zgonea's (president of the Senate) wife and Lia Olguta Vasilescu's (mayor of Craiova) husband.
Other recent scandals that shattered ASF's public image is Marian Mirzac's (member of the ASF board) involvement in a corruption scandal and placing Astra Asigurari under special administration.