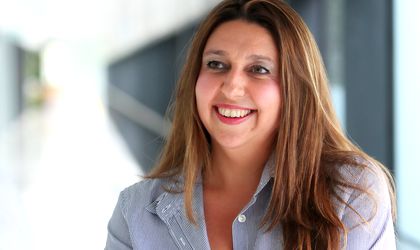 Launched in 2012, the SheXO Club provides an arena for professional, executive women to develop relationship building skills to facilitate their personal and professional growth. In sharpening the focus from C-suite to She-suite, the program is a platform for sharing ideas, development of leadership skills, and networking. The club has today 200 members, top business representatives. At every event there is a core public of at least 50 professionals, the overall number from each event depending on the interest over the subject agenda. BR talked with Madeline Alexander, audit partner and EU account leader in Deloitte Romania.
Romanita Oprea
What does Business Presence mean to you and how do you want to bring it to the Romanian women?
I think that Presence is very important and not only to women, but actually to men as well.I think it is a skill that we, as professionals, have to learn and it has to be nurtured from early on, even from your early stage education. It is very difficult as an adult to start transforming yourself and, like Laurel mentioned (e.n. Laurel Herman), there are many elements in this. It's a journey! It is not as if you participate to a seminar, listen to somebody speak and then you go home and all of a sudden you are going to have Presence.  Presence is defined in many ways. She talked about Presence in general and Presence in business. We, as business professionals, talk about Boardroom Presence, executive Presence, but more or less it has the same components: how articulate you are, how composed you are, how you deliver your message, how convincing you are, how empathetic you are, how is your physical appearance, just to mention the most important ones.
I believe Presence also includes empathy and showing people that you care. It is really a fundamental skill to get an audience   to pay attention to you. Respect, command of language, command of your body language, how you dress are essential.
I came to Romania just about 15 years ago and I recall that incoming from the United States I realized that, at that time, in the young generation there was no edicate about how we should dress in business. And that was not because professionals did not care about it, it was because they did not have the adequate knowledge about it.. They needed to see role models. Presence is the same: you need to have role models and even the people that are really good at it continue to work at it. So I think it is a continuous journey, but the earlier you embark on it the more conscious you become of the concept and the better you become as well.
Do you think that we also lack due to the fact that in school teenagers are not learning anything about emotional intelligence? It will help to have some courses of that?
I think that being pragmatic for today's business environment is essential. I've only heard of what is happening in the school system in Romania and what I have seen through the young graduates who we interview and hire so I may not have sufficient depth on the matter, but my experience with young graduates is that there are some who have all these skills and some who  don't or are not even aware of them because emotional intelligence is a subject which lacks sufficient attention in school. I am sure that the educational system could offer a little bit more of enhancement in this area. And, like I said, one needs to practice this a lot earlier in life, starting in childhood.
In the end, business is all about building relationships with people. Companies work with people and how we manage this talent or enhance it is the key to success.
What do you do in Deloitte on that matter?
I believe we do quite a lot. We are one of the most powerful teaching' houses in the corporate world. We take young graduates who have a very basic professional skill and we take them through this journey and every year we teach them on the job about how to be a better professional, how to listen to your client, to your colleague, how to empathize, how to become a leader, what does it take to become a leader. And through the employment levels in Deloitte, as they advance, they all go through different trainings (from soft skills trainings, real practice trainings, to subject matter trainings, etc). We offer   a continuous learning path irrespective of seniority, including myself. I have been doing this for 24 years now, I am still engaged in programs of continuous growth and development. And I have to say that I learn everyday. And that makes it exciting and makes me happy.
How did you decide to bring Laurel to Romania and what do you think she will bring different to your Deloitte SheXO Club?
She was introduced to me by our Deloitte Central Europe Program Leader for Deloitte SheXO, as an impactful speaker for other Deloitte SheXO Clubs in the world. I've connected with these leaders and they had very encouraging remarks on Laurel's presentation on Presence for executives and I thought the topic would be very useful to women leaders in Romania who sometimes, in my opinion, are too involved in everyday work and less focused on becoming better at Presence, at visibility and investing a little bit more in this area of development. I considered that the topic would be appreciated and insightful for them and well received.
Are men in your company also interested in developing their emotional skills?
Sure. I think emotional intelligence is applicable to men and women. Of course the level of emotional skill one has depends on how experienced the person is, what is their cultural and professional background, so the spectrum is very large. I would not say that this is just for women or just for men. How you navigate the journey to perfect it, is really in your hands. Just do it!