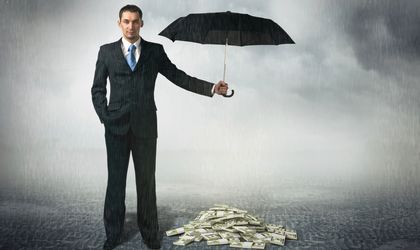 [This is part two of a longer story. To read part one, please click here]
After a difficult year, the Romanian insurance sector is striving to recover and regain customers' trust. Stability, sustainability and a focus on promoting the benefits of insurance policies to a customer base with only hazy awareness of the instruments are among the top goals on insurers' agenda, industry representatives told BR.
Anda Sebesi
Major market moves
One significant event on the Romanian insurance scene was the name change of ING Asigurari de Viata. In April, the company officially became NN as a result of a rebranding process that saw the life insurance, pensions and investment management divisions being spun off from the ING group.
The alignment to the new brand, which was made public in October last year, involves changing companies' names and visual identities, both in Romania and the other 17 countries where the group operates. Locally, since April the firms have operated as NN Asigurari de Viata, NN Pensii and NN Investment Partners.
Talking to Business Review in January, Popescu said the new name had been selected from 300 options and was chosen to reflect the firm's extensive legacy and Dutch roots as well as the "demands of an international brand". The new logo was intended to indicate the balance between past and future: the "N" from the orange logo expresses the roots of the Dutch brand (Nationale Nederlanden and ING) while being a modern element from the perspective of the graphics used to create it, he said at the time.
"The three shades of orange used in the new logo give it personality and make it easy to recognize," added the GM. The new logo has accompanied all contractual and commercial communication with the company's customers, partners and the market since April.
Insurers have also come up with new and tailored products. For example, Eurolife ERB Asigurari de Viata recently launched a new unit-linked type insurance product – called "Perspective pentru Profit 2015" – in the national currency. It fully guarantees the invested capital at maturity and should beat the interest rate of bank deposits, said officials.
The policy can be concluded for 18 months, with a potential yield of up to 9 percent of the underlying asset, according to the performance of the Eurostoxx 50 index (deemed the most important index in Europe, which shows the performances of the most liquid shares in the Eurozone). The corresponding profit is not taxable. Moreover, the investment solution comes with attached life insurance.
"Although unit-linked insurance is much more complex than the traditional kind, it is gaining in popularity. In the first quarter of the current year, Eurolife ERB Asigurari de Viata reported a 63 percent increase in the sums managed by the company in this category, compared to the same period of last year," says Anita Nitulescu, general manager of Eurolife ERB Asigurari de Viata. The campaign runs until June 25.
Eurolife ERB Asigurari de Viata ended Q1 of 2015 with a 17 percent increase in the amount of GWP (approximately RON 6 million) and a 6 percent rise in profit (approximately RON 1 million, according to local standards), compared to the same period of 2014.
Company officials said that the results were driven by customers' increasing appetite for long-term savings policies – "Perspective pentru Viitor" and the savings plan for children "Perspective pentru Educaţie" – which had a total increase of more than 17 percent in Q1.
According to ASF data, Eurolife ERB Asigurari de Viata reported a significant increase in its market share, from 2.7 percent in 2013 to 4.5 percent in 2014, and was ranked the eighth biggest life insurer in terms of GWP, despite the difficult economic climate and declining market.
In other moves, the Insurance Pool Against Natural Disasters (PAID) became an associate member of the National Union of Romanian Insurers and Reinsurers (UNSAR). "This new status consolidates PAID's position on the insurance market and allows us a closer cooperation with partners from the insurance market to increase awareness of the importance of PAD compulsory insurance," says Nicoleta Radu-Neacsu, general manager of PAID.
UNSAR was founded at the initiative of a group of 13 insurance and reinsurance companies and today has 26 members, of which 21 have absolute rights. The members have a cumulated market share of over 90 percent of the Romanian insurance sector. PAD insurance covers three specific risks for Romania: earthquake, flood and landfall.
PAID was founded in 2009 as an insurance company by 12 insurers: ABC Asigurari, Astra Asigurari, Carpatica Asig, Certasig, City Insurance, Credit Europe Asigurari, Euroins Romania, Generali, Grawe Romania, Groupama Romania, Gothaer Asigurari and Uniqa Asigurari.
What's happening in EMEA…
According to Marsh's annual Europe, Middle East and Africa (EMEA) Insurance Market Report 2015, competition among insurers continues to drive down rates and capacity remains abundant in many markets in EMEA, particularly for customers with attractive risks and good loss histories.
In Romania, the general liability market continues to be one of the few profitable lines of business for insurers, found the report. As a result, competition for new and existing business is stronger than ever. Rates for this line decreased by up to 10 percent. The same reduction was posted for marine CARGO insurance. Rates remained stable for the majority of the other segments.
In the report, Marsh notes that rates for motor insurance have remained stable or reduced by an average of up to 10 percent in 25 of the 34 countries analyzed across the region. Examples include the United Kingdom, Belgium, Poland, Italy or Turkey, where rates decreased by up to 10 percent.
In Romania, the situation is different, as auto insurance rates posted increases of up to 10 percent. The motor insurance market remains competitive, and it is still possible to find secure premium rate reductions at renewal. Insurers have, however, been making a loss on motor third party liability for years, and prices are expected to increase as they seek greater sustainability, found the report.
Health insurance rates have also posted increases of up to 20 percent in Romania, due to a recent spate of large losses. Most insurers have reacted to this by placing the risks that come to market under greater scrutiny.
Rates for directors and officers (D&O) liability insurance in EMEA remained stable, through average reductions of up to 10 percent were reported in 32 countries. Locally, rates stayed stable which is likely to be the case in 2015. Only the Czech Republic and Russia experienced rate increases for D&O insurance in EMEA in 2014.
"Organizations should generally expect favourable market conditions in 2015, as the EMEA insurance market continues to be characterized by enduring insurer competition and a benign catastrophe loss environment," says Graeme MacMillan, CEO of Marsh's UK markets division.
He adds, "In particular, motor insurance rates have continued to decline across EMEA. While motor insurance is now a loss-making line of business in many EMEA countries, there is little sign of this trend abating. Clearly, insurers are taking a strategic view and are using competitive motor insurance rates to gain leverage with their clients."
"We expect analytics to continue to push the boundaries of the global insurance market's traditional model and influencing behaviour. As insurers increasingly vie for business, many are investing heavily in analytics and product innovation, to improve the delivery of their services and grow their market shares." says MacMillan.
Although trade credit insurance rates are still falling across EMEA, claims are continuing to increase, particularly in Africa and parts of Eastern Europe, found the report. This will have an adverse effect on premiums in 2015, for all but the most attractive risks.
In addition, enquiries about cyber risk insurance products have continued to increase across EMEA, as firms become increasingly aware of their exposure. While Marsh expects to see further entrants to the political risk insurance market in 2015, claims incidences may increase following the expiration of policy waiting periods for credit and political risk/physical damage events.
…. and CEE
In the past three years Central and Eastern Europe (CEE) has seen a divergence in the fortunes of the life insurance market (growth) and general insurance (drop). This is the conclusion of a study conducted by Ensight Management Consulting on the insurance market in CEE and Romania.
Life insurance represents less than 50 percent of the total CEE insurance market, below the European average. The segment grew especially because of a general increase posted in Poland, found the study.
Meanwhile general insurance dropped slightly to stand at just over 50 percent in 2012, as a result of a decrease posted in half of the CEE countries. With car insurance – the most profitable subcategory of the general insurance market – dropping, increases in health and home insurance premiums were not enough to maintain market value.
Profitability in CEE was supported by all the market in the region, except the Romanian one, which has posted losses for eight years in a row.
Researchers also found that in Poland, Slovakia and Croatia, direct sales are the most dominant distribution channel for life insurance products, while in Romania, Bulgaria and Slovenia it is sales agents. Sales agents are the dominant distribution channels for general insurance in CEE. Bulgaria is an exception as insurance brokers are gradually dominating this market.
According to the study, specialists expect alternative sales channels like online and mobile to increase, especially for standardized and traditional insurance products with mass distribution.
The study aimed to analyse the development of the insurance market in previous years and identify its medium- and long-term trends. The research covered Romania, Poland, the Czech Republic, Slovenia, Hungary, Slovakia, Croatia and Bulgaria. Both the market analysis and trends are based on data from September 2014. The objective of the research also included analysis of the volume of the life and general insurance markets, their dynamic, distribution channels, levels of profitability and general market trends.
[To read part three of the story please click here]