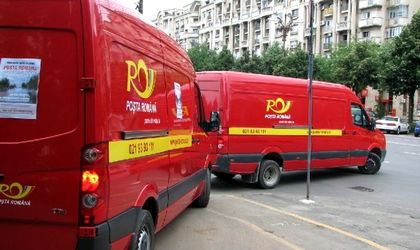 According to the preliminary financial results for 2015, Posta Romana, state-owned post service, registered a gross profit of RON 19.2 million (EUR 4.3 million) in 2015, says a press release from the company. At the same time, investment expenditure went up with over 24 percent compared to 2014, while total expenses decreased by approximately 7 percent.
Nevertheless, the occasional income registered in 2014 and produced through the distribution of the national health card negatively influenced the total income in 2015. Without that influence, the total income would've seen a growth, significantly supported by income from packages (13 percent increase) and financial income (20 percent increase), says the press release.
In terms of wages, "Posta Romana cannot afford at the moment a new wave of wage increases, given that the necessary amount of investments is huge. The lack of concern over this component in the past 10 years was reflected in the decreased quality of services and, finally, the decrease of income," said Alexandru Petrescu, head of Posta Romana. Moreover, "it is important that Posta Romana focuses its services on the new market realities, no matter how much we'd like to deliver just letters. This strategy must be understood by all employees, whose involvement is essential," he added.
In the first quarter of this year, Posta Romana is carrying out a pilot implementation project for certain performance criteria among employees. Initially, these will be applied at county level, under the coordination of the heads of the County Postal Offices (OJPs).
The Romanian state, through the Ministry for Informational Society, owns 75 percent of the Posta Romana, while Fondul Proprietatea owns 25 percent. The company owns over 80 percent of the postal sub-units that are, currently, operating in Romania and covers over 7.5 million addresses.
Posta Romana finished 2014 with a net profit of RON 22.8 million (EUR 5 million), after five years where it registered consecutive losses.
Andreea Tint