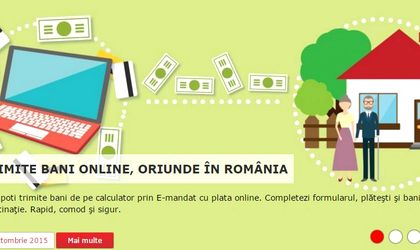 National post company Posta Romana announced the launch of its new website, which includes an online money transfer service and an online form area.
Among other new facilities the platform includes the option to subscribe to publications from different domains, such as daily newspapers, tax and law, automotive, business, real estate, agriculture, finance and lifestyle.
"The new website of the Romanian Post is a strategic project and aimed mainly at opening an online point of access to postal services, and the reorganization of information. The platform structure was designed so as the user can reach in maximum 3 clicks any place on the site, any category of services. In addition, customers who want to save time can send money directly in front of their personal computer, allowing the recipient to receive them directly at home, through the postman," said Irina Purcaru, director of operations and commercial relations of Posta Romana.
The new platform also allows for online tracking and e-mail notifications for packages sent through Posta Romana and offers a sign-in facility, allowing the user to fill in forms online, save personal data and view the history of transactions made on the  website.
Natalia Martian