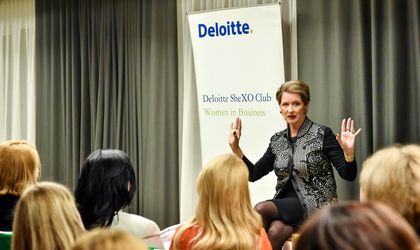 Laurel Herman, a well-known international speaker on 'positive presence' (influence, impact and gravitas) has been in Romania where she presented and debated during the last 2015 Deloitte SheXO event on the topic of "You are your own best Business Card". Herman is well known as a thought-leader, entrepreneur and an expert in every aspect of personal effectiveness. She is a sought-after accomplished speaker at all types of business and lifestyle events and a regular contributor to the media. She is recognized as a seasoned graduate in life and its challenges, an image doyenne and an information resource, she is also sometimes invited to tell her own story or give advice as motivation and inspiration to others. BR had the chance to take an exclusive interview with Herman during the Romanian visit.
Romanita Oprea
How was when one of your businesses, the one that you created with you best friend failed? Would you change anything about that experience?
For me it was a real positive experience: I made a lot of contacts, I moved into a really different world, but I suppose I had different businesses as well. For somebody else might have been a step back, but I never think like that, I never do. I never consider that something I have done had been a waste of time.
During the years you've been working with women all over the world. Did you see any differences business wise?
Of course. One would be naïve to say that there are no differences, but there are more similarities than differences. I've had these conversations everywhere I have been: it's about women wanting to have a man in their life, women wanting to be successful. I have the same lack of confidence everywhere. People think that American women are very confident and that is because they make a lot of noise and a lot them are, but at the same time a lot of them aren't. For example, in London, the South and the North are very different: two totally different kind of people. But in the world of business there aren't so many differences.
If you take a farmer's wife in China and you look at yourself you don't find very much in common with her, but she may be very much alike with a farmer's wife in deep Romania.
Talking about emotional intelligence how important do you think it is in the business environment and do you think that women have a better capability of understand of emotions and more empathy than men?
A hundred percent; Absolutely, there is no question. It's well known. As I was talking earlier about Asperger's. At the beginning scientists thought that more men have Asperger's than women, there were 7 men to 3 women. Now they are diagnosing many women and they found what that those women have mask it, because they are intuitive, so they actually used their emotional intelligence and didn't realize they have the syndrome.
Why would they hide it, is it the fear of losing the job or the good position?
Because they naturally had intuitive skills, they naturally could be more social. Part of Asperger's is not understanding the nuances, so If for example if I went down to that room right now I would be fine, but if I had Asperger's  I might be concerned right now but I wouldn't be certain to whom should I be talking about , I would ask myself should I sit down here, or at that table… I would be much more anxious.
So women are better at this because they are used to hiding their emotions when need it, to mask their real feelings and therefore to mask the social side of the syndrome.
How do you see the rising of the women in the business world? Do you think it should have happened faster?
I am afraid I am going to say I have a word of warning: I come from an environment in UK that is much more mature and because I am older and I am fortunate to have a breath, because I am not working in any kind of industry, I don't work in any narrow field, I am seeing all the problems that come with the ascendancy of women. It's not easy, but women have to make a decision about what is really important to them. It's not easy for a woman to take a career that is actually full on. There is a price to pay for that.
The art of the way you will go with the women's agenda is to let a woman be a woman and to celebrate that. Let her be herself in that role, not just like an accountant or a lawyer. It is being free, being a person, bringing the personal skills, but not being strict and serious. But equally not being funny all the time as well. It's not a joke: you are working towards money! Life is not a joke as far as I am concerned.
Do you believe that anyone can have a positive presence if he's trained to? Can anyone learn it?
I don't think, I know it's possible. What people have to understand is that if someone is 20 percent you can never make them 90 percent, it's not real. If someone has 30-40 percent you they can make up to 50-55. If they have 50 percent they can climb up to 70. You can move them up, particularly if they want it to. Training is very different from someone who has a natural presence. And there are people with a very good natural presence.
How long does it usually take to train someone? Who was your easier and your hardest case?
Have you heard the expression "how long is a piece of strain?" It's very different from person to person. You can't make someone have a positive presence today or tomorrow, it's not real. You can give them acting, but that will not help. You have to make people first of all accept that a change may be necessary, you need to make them understand how to do it in a way that is right for them. What is right for you is not right for me or somebody else. There's a lot more than people think. It's a lot of thinking about yourself, a lot of acceptance of what you cannot be, but also of what you can be. It's really coming to terms with life. And being comfortable with that.
How did you see the companies changing their perception about the importance of emotional intelligence?
Positive presence is not only about emotional intelligence. It's also about appearance and communication. Those three aspects together make it work. It has been a lot of change during the years. When I first started this I was bringing something new. Only some companies were willing to embrace it and that meant the new HR, because the old HR only wanted what they knew. Now I find a lot of people who are telling me that I am right. There's been a great shift with certain people.
In corporatives they usually follow some trends. You see all the corporates doing the same stuff and then 2 years later they do something different and after 2 years something else. But they do it because they all do it.
And then you have the unlighted people who can see why it doesn't work like that and they tell you. Those are the people that perhaps now we have on board.
How do you change a company's perspective? How do you make them see beyond what they know?
For me it wouldn't be about changing the company, because it would be the person that I am talking to that would trust us. We are lucky because the evidence of what we do walks around, so all our work is repeat or referral. We don't advertise, but we have a tremendous portofolio of clients for that very reason and now that is global. For example, the workshop that I am doing tomorrow is because of one of my clients who was in England and then in South Africa and then came to Romania. They see the results and they trust that it will work.
Other people I suppose they trust us just in the promise of me saying it, but it makes sense to them. And people are now aware of what presence is, because in most of the organizations there are people with presence. And there are also people with no presence and they see the difference between them.
What was your first impression about Romania? Are you here for the first time?
No, I am not here for the first time. My first impression was a few years ago and it wasn't a good one. I thought it was poor and shabby, because all I saw was building with graffiti that all look broken. It's my fault, I only saw one road probably.
This time around I've seen beautiful architecture and lovely people, very warm, very family minded, with a good sense of values. Also I am aware of the political situation, which I find sad and I think things will have to change. When it needs to be a dramatic change, like here, it makes people to be unsettled.
How did you choose the topic of your workshop?
The topic is nearly always the same, but adapted to the organization and the audience. Or the culture. Or any particular objective. If they were all women would be different. If they were all senior management it would be the same things, but just a little bit different.
Do you think that being as stylish as you are has helped you in your business?
I am not a typical Brit, by any means, and I don't follow fashion. To me is nonsense today and is a real exploitation and I don't understand why people go on and rush and buy something just because a journalist says it's trendy. I have no idea why people would do that. So I am not representative for the British women by any means at all. I was brought up with a background of style because of my mother and my grandmother, I love looking at people who look good. It pleases my eye. I can't understand why people do funny things like suddenly putting a silly hat on their head or suddenly wearing yellow shoes. It's so easy to buy black shoes.
I know you said you are giving advices on fashion generally applicable or "top 10 things…", but is it something you consider that a business woman should never wear?
I would never make a rule that sounds so dictorial. If you ask me my advice I would say to that as far as I am concerned, and it's been contested now, I would never wear satin or sequin or lace in a business world. That is what we call evening cloths. Since England is now full of immigrants and there are a lot of Russians and Eastern Europeans, they came wearing all kinds of things that we consider not right. Also, low tops. Never wear cleavage! It's absolutely not the right things. Those two are the ones I would think of most as "don't do it".