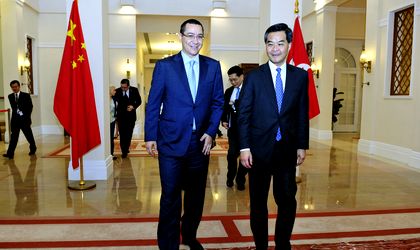 Romania and China are currently running investment projects worth EUR 6 billion, said prime-minister Victor Ponta on Thursday, adding that in the current geopolitical context, Romania needs to identify new markets.
"The projects that we currently have in development are investments in energy and infrastructure with a total value of EUR 6 million, which means jobs, energy independence and the possibility to add to what we are already getting from European funds and budgetary funds for improving infrastructure", the official argued.
Ponta also said that Romania supports the decision to create new economic sanctions against Russia for its involvement in the Ukrainian crisis, Keeping this in mind, in order for Romania to continue its economic growth, it needs to find new markets.
Between August 30 and September 3 Victor Ponta visited China, at the invitation of PM Li Keqiang. Victor Ponta and the minister of Transport, Ioan Rus, carried several discussions with Chinese officials regarding investments in energy and transport.