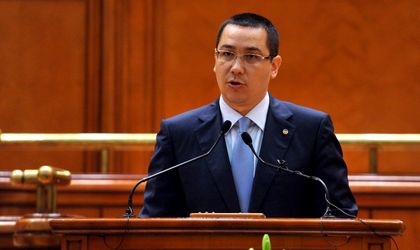 Prime-minister Victor Ponta announced on Friday new discussions with President Traian Basescu regarding the IMF agreement. The Government is set to transmit the letter of intent to Cotroceni on Wednesday.
"I've discussed the issue with the president but he asked me not to announce our decisions. He will announce it when the time comes. I have assured him there's nothing in the memorandum about the fiscal credit for interest rates", Oonta explained.
Arrears to be reduced
Also on Wednesday, the Government will approve an arrears reduction scheme for state companies that will reduce the debts by RON 2 billion. Small companies with historical debts will enter insolvency or be liquidated, the prime minister specified.
"There are a couple of small companies, none of the big ones, that have historical debts and will enter insolvency, afterwards they will be liquidated", Ponta said.
The delegate minister for the Budget, Liviu Voinea, claimed that the private sector currently has four times the debts that state companies have. National companies in debt do not affect the economy in terms of competitiveness and in general they are active in fields that have been restructured economically, the Ponta added.
Average salary increased
The average monthly salary will go up 5 percent in 2014 and 2015, and the average monthly pension will surpass EUR 200, as the Government estimates it will increase by 4.5 percent in 2015, according to the same presentation.
The authorities have already scheduled a 12.5 percent increase for the minimum wage, which this year should reach the value of EUR 200.
No differentiated taxation
The Prime minister also specified on Friday that the differentiated taxation will not be introduced this year for individual income, and neither will the solidarity tax, the USL alliance failing to reach a unanimous decision on the matter.
"The solidarity tax is not registered as a source of income and there is no unanimous agreement in the USL. Three of us believe it would be beneficial, but a fourth party doesn't agree", Ponta answered also adding that he personally still supports introducing such a tax, but not without unanimous agreement.
Better than expected: 3.5 percent growth for Romania's economy