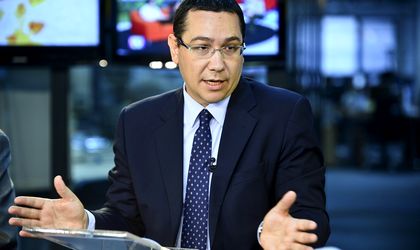 Prime Minister Victor Ponta announced that he will provide the Ministry of Finance (MFP) interim up to Wednesday, reports Mediafax.
"I will take over until Wednesday, March 25, the interim of the MFP! After adopting the tax codes, I will submit the proposal for the new minister to the President," Ponta wrote on Twitter.
Mediafax had previously announced, quoting official sources, that PM Ponta reflected over the possibility of providing the interim of the Ministry of Finance by Wednesday, when the Government will adopt the drafts of the new Tax Code and of the Tax Procedure Code, following to have a discussion on this topic with president Klaus Iohannis.
"The option considered is for the MFP interim to be provided by the prime minister, not necessarily for 45 days, as it is the legal term, but mainly by Wednesday, when it will be adopted the Tax Code," the sources revealed.
The quoted political sources also said that PM Ponta has had individual discussions with Viorel Stefan, the chairman of the budget and finance committee within the Chamber of Deputies, with Dan Manolescu, state secretary in the Ministry of Finance, and Cristian Socol, his economic adviser, whom he proposed the position of minister of Finance, but they refused.
The government met on Monday to discuss the drafts of the new Tax Code and of the Tax Procedure Code, the ministers noting at the end of the meeting that all necessary approvals have been issued so that the documents can be approved on Wednesday.
Staff