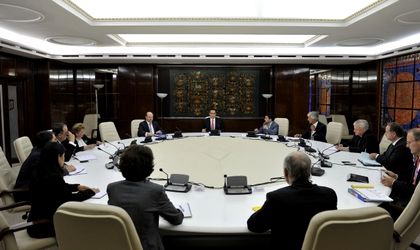 The negotiations for a new precautionary loan with the IMF, the European Commission and the World Bank, containing targets on macroeconomic stability and structural reforms, have been concluded, announced PM Ponta on Monday.
The PM said the final communication procedures with the international financial institutions will be carried out today and the presentation of the new agreement will be made on Wednesday.
Andrea Schaechter, head of the IMF mission in Romania, said the government aims to maintain the macroeconomic stability and pursue structural reforms in the healthcare, energy and transport sectors in the new loan deal.
The international lenders have also approved Romania's budget revision, which will see more funds funneled towards investments in healthcare and education.
Liviu Voinea, the delegate minister for budget, said the budget revenues have been reduced by RON 1.9 billion (EUR 432 million) and the expenditure went down by RON 700 million (EUR 159 million), as part of the budget revision.
The budgets of the Ministry of Transport and the General Secretariat of the Government were slashed by RON 900 million (EUR 204 million) and RON 500 million (EUR 113 million), respectively.  Meanwhile, the Ministries of Health and Development got RON 1 billion (EUR 227 million) and RON 900 million (EUR 205 million) in fresh funds.
Voinea said Romania's economic growth has been revised upwards by 0.3 percentage points 1.9 percent of GDP this year, while the cash-based budget deficit is forecasted to increase by 0.2 percentage points to 2.3 percent of GDP.    
Romania registered a first half budget deficit of 1.06 percent of GDP, according to the Ministry of Finance.
Ovidiu Posirca