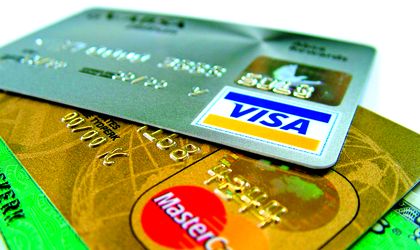 Although Romanians are increasingly willing to use plastic to make payments to retailers, the local card market is still far from ace. The national strategy launched this year by Visa Europe aims to get the local card market to play its trumps.
By Anda Sebesi
The Romanian card market ended last year with a portfolio of 13.7 million cards which generated 384.5 million of transactions and a volume of RON 137.15 billion, according to the National Bank of Romania (BNR) data, cited by NoCash, a website specialized in the card market. In addition, in 2012 the number of transactions and the volume increased by 10 percent and 13 percent respectively on 2011 while the number of ATMs dropped and POSs increased by only 1 percent, from 124,920 in December 2011 to 126,255 in December 2012, according to the same source. Specialists say that this increase is the result of a more intense usage of cards with retailers compared with withdraws from ATMs.
The local card market took a significant step in May this year when Visa Europe launched a national strategy to encourage and promote card payments in the public sector. It contains several measures to increase the efficiency of the public sector and analyzes their estimated economic impact. The strategic objectives proposed by Visa Europe include the cutting of the underground economy by 5 percent within four years, boosting revenues to the GDP to 40 percent (the EU average) in four years and saving RON 1 billion in the distribution of social benefits within five years.
"Romania promised its international partners that it would achieve a sustainable fiscal consolidation and the underground economy is one of the main barriers to fulfilling this objective. Studies show that electronic payment systems help reduce the underground economy while the card is the most accessible and frequently used electronic payment instrument," says Catalin Cretu, general manager for Romania at Visa Europe. The measures put forward have four main aims: improving the collection of local taxes using card payments, increasing the efficiency of distributing welfare and performances using the card, cutting bureaucracy and increasing financial efficiency by transferring public sector workers' business trip expenses onto cards, and measures to reduce the underground economy by transferring some facilities to electronic card payments.
At present, Romania's underground economy is estimated at EUR 39.6 billion, a decrease of over 3.5 percent on 2008 and 15 percent on 2003. But despite this, the country is ranked second in Europe for the weight of the black market in its GDP. According to the Underground Economy in Europe study, published by Visa Europe, it was estimated at 28 percent in 2013, similar to the level posted by Croatia, Estonia and Lithuania, while Bulgaria posted 31 percent this year.
Banks get card sharp
In April, BRD-Groupe Societe Generale announced that it had exceeded 100,000 contactless cards issued on the Romanian market. "Contactless technology is present in more and more aspects of day-to-day life. Its attributes – speed, convenience and simplicity – recommend it not just to individual customers but to all categories of retailers," says Elena Oprea, deputy executive manager of the marketing and products management department at BRD. According to the lender, BRD is the largest issuer of bank cards in Romania, with over 2.3 million valid cards issued.
Elsewhere, Raiffeisen Bank announced at the end of March that it has the largest portfolio of credit cards in Romania, namely over 385,000, of which 95,000 are credit cards issued in 2012. The lender has over 1.6 million active cards (both debit and credit).
"We are very pleased with the evolution of the credit card and the fact that the card is used 80 percent for payments to retailers. This is our biggest achievement: we have managed to communicate to our customers the best way to use the card – to pay for everyday shopping," says Titi Stoenescu, card manager at Raiffeisen Bank. At the end of 2012 the lender had over 1,100 ATMs and approximately 11,000 EPOSs.
Lenders bank on card campaigns
Many lenders have launched promotional campaigns for their cards this year, seeing and capitalizing on the potential of this market segment. For example, customers of OTP Bank Romania who apply between May 15 and July 15 for a MasterCard credit card allowing any payment to be made in six installments – no matter its value, at any trader in the country or abroad – can win one of 16 weekly prizes by lucky dip, each worth EUR 500. The facility is also available for utilities providers and for online payments.
"MasterCard credit card with installments issued by OTP Bank facilitates any payment, in the country or abroad, and gives our customers the possibility of repayment in six installments with zero interest, flexibility in paying the installments, quick approval and safety for transactions. The card has a unique character on the Romanian market and is aligned to the commitment undertaken by OTP Bank to identify and promote products and services efficiently, meeting the current demands of the market," says Adrian Chichita, card manager at OTP Bank Romania.
Elsewhere, CEC Bank launched a promotional campaign for MasterCard for individuals in mid-March. From March 15-June 14, any customer that took out a MasterCard Debit, Credit or Gold card and made commercial transactions of a minimum of RON 50 could win one of 600 prizes of RON 50 each or, through a draw, one of six holidays in Romania.
"By launching this promotional campaign customers have the chance to win attractive prizes for three months in addition to advantages such as zero commission when applying for the card, transactions with retailers from Romania and abroad and the possibility to pay bills directly at the lender's ATMs and access a limit of credit with advantageous interest rates," says Radu Gratian Ghetea, president of CEC Bank.
Last but not least, Banca Transilvania launched the campaign "Do now what you have dreamed of since you were a child! If not now then when?" (Fa acum ce visezi de mic! Daca nu acum, atunci cand?) as part of the Star BT loyalty program.
The scheme is for customers who have a credit card. As part of the campaign, customers who apply for a MasterCard Forte card between April 1 and June 30 get a three-month grace period, three months of double Star BT points and free issuing of the card. "Throughout this campaign, we estimate an increase of 15,000 MasterCard Forte cards and a positive impact on credit card payments to retailers. So far, in just one and a half years from its launch, the Star BT program has brought an increase of over 60 percent in this type of transaction," says Gabriela Nistor, retail banking executive director at Banca Transilvania.