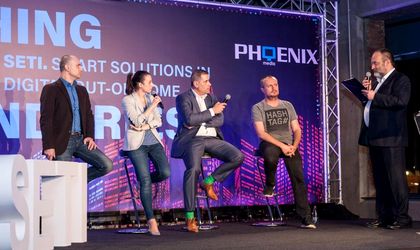 Phoenix Media, the leader of the outdoor digital market, continues it series of innovation in terms of OOH and launches the first planning programmatic app SETI (Integrated Traffic Extended System).
This instrument is the result of an ample study conducted along with D&D Research and that has set as a goal to identify the demographic profile of the people passing along the 43 transit locations in Bucharest.
"For the first time in Romania we have an instrument that can offer us a demographic profile, on hours, for OOH. We have installed cameras on all our screens and with the help of a perimeter measurement soft we quantify the registered traffic in the locations where we are present with TV screens," said Dio Boaca, general director of Phoenix Media.
The 30 screens owned by Phoenix Media have two or three cameras that are recording and counting in real time. The SETI application counts only the people for whom there is a high probability to see the screened spot on the TV screen, 90 percent -100 percent. Only those heading towards the screen are counted. At the same time, for every place in Bucharest, Phoenix Media knows exactly which type of target they are addressing and what are the chances of the target audience to see the spots.
Parameters such as sex, age and income were taken into account for this research.
"This is the most complex traffic study in the history of Bucharest. We took in account three different times of the day and we've interviewed both pedestrians and drivers, in total being 30.000 questionnaires. (…) The gathered data succeeded, among other things, to discourage some false perceptions. For example, the biggest traffic in Bucharest is recorded at the Tineretului intersection (3.312.411 general impression in Decembrie 2015); Piata Universitatii (The University Square) is present in the top busiest locations due to the fact that the people mainly use the pedestian passage and are not counted by the cameras; the Pipera area has a profile formed of : 70 percent men, with age between 20 and 49, with socio-economical level ABC, and the Piata Domenii (Domenii Market) and Mircea Voda are tranzited by people with medium through righ income," explained Dan Petre, managing partner at D&D Research.
The SETI application is user friendly and allows the clients to have real time access to the status of the campaign they are running.
Phoenix Media was founded in 2003. Since 2005, the company has offered the market many premieres and is, at this moment, the only one that offers personalized targeting. At the same time, Phoenix Media introduced in Romania the first outdoor promotional system on timeframes, as well as real time transmission of messages from the mobile phone to the digital screens.
Romanita Oprea