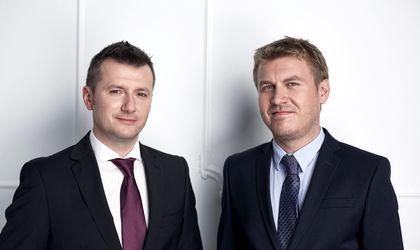 Philips Romania announced the appointment of Alexandru Popescu (pictured left), currently general manager for Philips Health Systems in South East Europe (SEE), also as country manager for Romania and country group leader for Philips in SEE, effective February 1st, 2016.
Also, Doru Rusanescu (pictured right) was appointed as general manager for Personal Health in SEE, since January 5, 2016.
They succeed Robin van Rozen, who held the three roles since 2013 and, starting this year, became Vice-president and General Manager for Philips Personal Health UK & Ireland. Both leaders are based in Romania, at the corporate office in Bucharest.
In his combined roles, Popescu will focus on consolidating the strategic development of Philips as a leading healthcare technology company in the 11 countries in the region. He will also continue to strengthen the Health Systems division, building upon partnerships with healthcare stakeholders in the public and private sectors.
"I'm very pleased to broaden my role in Philips, both in Romania and in South East Europe, by coordinating the development opportunities we have through our innovations that span what we call the "health continuum", from supporting a healthy living and prevention, to effective diagnosis and treatment, as well as for recovery and homecare. Moreover, as Philips celebrates 125 years of innovations in 2016, we look beyond technology, to the experiences of the people in order to provide solutions that make a difference. I am confident that together with Doru and our dynamic team, we will continue to accomplish excellent results" said Popescu.
As new GM for the Philips Personal Health division in South East Europe, Rusanescu is expected to drive growth for our entire consumer portfolio.
Popescu has over 16 years' experience in the healthcare industry. He has been general manager of Philips Health Systems in SEE since June 2014.  Prior to this, he held senior management positions in private healthcare chains, such as Amethyst, Regina Maria and Medicover. He holds a Bachelor's Degree in law from the University of Bucharest and a Master Degree in Business Administration from the University of Ottawa.
Rusanescu has professional expertise and 14 years' experience in management and marketing, having held leadership positions for operations in Central and Eastern Europe in the Coca-Cola system. He has a Bachelor Degree in Management from the Academy of Economic Studies in Bucharest and a Postgraduate Diploma in Marketing Communication from the Chartered Institute of Marketing in the United Kingdom.
Otilia Haraga