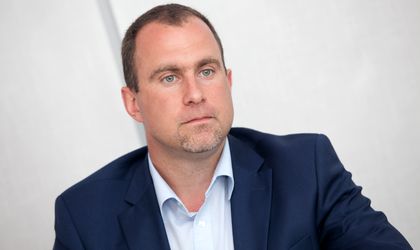 Gabor Staniszlav, president of the Local American Working Group (LAWG), an association comprising innovative drugs makers with R&D facilities in the US, says that the list of reimbursed drugs should be updated by the end of this year. He estimates that more than 170 new drugs are awaiting inclusion, with the overall market set to go into the red unless the Ministry of Health approves the biggest update of the list since 2008.
[restrict]
How did you receive the news that the government had put 17 new drugs on the reimbursement list this spring?
I have to say with mixed feelings. On one hand, this constitutes a great achievement after six years without any new products becoming reimbursable in Romania, so it is certainly a good and big step forward. But on the other hand, we have to say it is only a small part of the story because orphan drugs by definition are treatments for diseases that are very rare. So this will certainly help some Romanian patients who are currently struggling without proper medication, but we are talking about a couple of thousand of patients in total who might benefit.
The remaining list (e.n. new drugs pending approval) would help another couple of hundred thousand patients to have better quality medication, live longer or enjoy a better quality of life. So, we are happy but we are waiting for the further steps to make these remaining products available to Romanian patients.
How many drugs are currently awaiting the approval of the Ministry of Health?
It is hard to say. I can tell you that last year when we had legislation in force, there were more than 170 drugs waiting for reimbursement. In the meantime some new medications have probably been registered in Romania as well, with marketing authorizations, and intended for reimbursement, so it should be more than the 170 we had last year.
What is Nicolae Baniciou, the minister of health, telling you about the update of the list?
We try to stay in close discussion with him. As investors, we want to partner with the authorities to find solutions to make these new products available. This creates a short-term financial burden, because obviously the state has to pay for these products, but we also try to explain to the authorities that in the medium and long term it brings huge economic value for the country, which can even be measured in GDP values and in financials. So, on one hand, we were slightly dismayed that a new methodology and a new way of updating the reimbursement list was to be implemented. On the other hand, if medication really reaches Romanian patients soon, then we can only welcome this.
Isn't this methodology based on international standards?
The idea is, and now the draft has been published and we are in more or less daily discussion with the authorities about it. We want to use examples from Europe, where they have a very well established health technology assessment for this type of evaluation, currently in use in Germany, France and the UK. Also some local factors (e.n. are involved), and some real-time data. As a consequence of this a score could be reached and if that score is above a certain threshold, then the product will be reimbursed. If (e.n. it does not pass) it will probably not be reimbursed or be under strict restriction in Romania.
Does the Ministry of Health have enough specialists to assess these new drugs, because this was an issue flagged up by officials?
Certainly, it is a very difficult question because, in general, as Romania did not have this type of methodology in the past, there are probably few specialists in the country. However, what we're seeing is that there is an intention to expand this department in the drug agency ANM, and some steps have already been taken. On top of that, using some examples from other countries that have already evaluated these medicines could be a good combination of developing specialists in the country while at the same time trying to get decisions on this reimbursement list for each molecule.
The Ministry of Health will cover the costs of the 17 new drugs on the list. Who is going to pay for the rest?
In general, under the current approach, more or less everything should be paid for by the industry, meaning that there is a specific budget for pharmaceuticals with everything above this covered fully by the industry. Even without any update of the reimbursement list, the industry is now paying for two free-of-charge medications for ten patients in Romania, so on a quarterly basis we pay about 20 percent as a claw back.
One aspect of the discussions we're having with the authorities is how to cover these costs, because obviously on the short term these new products might generate some extra expenses. Our idea is to work on methodology that will see both parties contribute to this, because we understand that the state budget is quite limited and so there is not enough money to cover everything. On the other hand, it is also not possible for everything to be given free-of-charge by the industry because everything that we have invested in R&D for these molecules is then given free-of-charge to the patients, which is not feasible.
This is a discussion, and we are asking the authorities for an increase in this budget. Quarter-by-quarter or year-by-year, it should increase, but on the other hand we understand that not everything can be covered by the state budget. One idea would be a cost-sharing or risk-sharing solution.
Is the Ministry of Health talking about increasing the budget for drugs next year?
There is contradictory news in this respect. Certainly, as we believe that the budget process is not closed, we are continuously asking for an increase. But also, the decision makers should understand that we, as an innovative industry, cannot cover everything, so that is why we are continuously asking for an increase in the budget, even excluding the new medication reimbursement list update.
Again, this 20 percent we are paying in claw back tax is not sustainable on the long term, and what is even more difficult is that it is absolutely unpredictable. We do not know how much tax we will have to pay until the invoice or the demand for the tax reaches us. We want a more predictable and sustainable tax methodology. What is also important to mention about the claw back tax is that when it was introduced approximately three years ago, it was meant as an intermediary measure, due to the economic crisis. We kind of agreed and accepted this, and contributed to surviving this difficult period.
But Romania is now one of the fastest growing economies in Europe, so we believe that since the country is recovering it is time to start reinvesting some of this growth, not necessarily only in this segment, but in broader terms for healthcare.
Romania spends one of the lowest proportions of GDP on healthcare in Europe – less than 4 percent. We strongly believe, and we have evidence for this, that if this investment does not increase on the medium and long term this will certainly have a negative impact on future growth (e.n of the Romanian economy).
How is the list of reimbursed drugs updated by other EU members?
It varies country by country. There are countries where they update the reimbursement list even on a monthly basis. A positive example is Germany, where after the marketing authorization is granted, the product becomes reimbursed more or less immediately. What is also important is that countries with similar economic situations to that of Romania carry out more frequent updates of the reimbursement list, either on a yearly or half-yearly basis.
One of the reasons that we now have this issue is that the list has not been updated for six years, so all these issues dragged on and now it is very difficult to solve them in one go.
Going forward, do you think this list should be updated yearly?
Yearly, or half-yearly in the ideal case, but certainly it is important to have a predictable and transparent way of updating it on a regular basis. To the best of our knowledge, the authorities are aiming for this, so we want to partner them to make it happen.
At the end of the day, what is important is that these medicines really reach Romanian patients through pharmacies, and still we must say that even for these 17 orphan medicines, they are physically not yet available to Romanian patients. Hopefully in the next couple of weeks this will happen. We are waiting eagerly for the big update of the reimbursement list and not only for the necessary legislation, but for these products to physically reach the patients.
When do you believe this will happen?
I hope it will happen as soon as possible. The authorities have pledged that it will happen by the end of this year.
Do you know if there are new drugs awaiting approval whose patents expire this year?
What I know for certain is that there are innovative products that have already lost their patents, but in the meantime they have not become reimbursed in Romania. This creates a very difficult situation for the manufacturers and developers, as huge investments are made in the R&D of a certain product – about USD 1 billion to develop a molecule and market it – and if the patent expires before it is marketed it makes companies hesitate about how much and how long to invest in the development.
What is the outlook for the pharma industry in the second half of this year?
These are certainly difficult times. The original projections, according to the data providers, showed growth of around 2.7-3 percent for this year, but at that time it was assumed that the reimbursed new products would reach the market. Now, knowing that the products are most probably not getting reimbursed on the market, the latest projections are about -0.3 percent, but again a lot depends on how and when the new products enter the market. In the last quarter, the market was already in negative territory so my personal belief is that the market will decline in value this year.
Is the approval of the package of basic healthcare services impacting the pharma industry?
Certainly it is good that the whole system is trying to be more efficient, and we believe that the Romanian healthcare system has a lot of room to become more efficient. In general we welcome the reforms, which we believe are necessary and important. That money already allocated to healthcare should be spent in a more efficient way, but we believe that even with these reforms healthcare spending should significantly increase.
What is the profile of the Local American Working Group?
LAWG is an association consisting of ten companies with research and development sites in the US, and which are also present in the Romanian pharmaceutical market, so we are either American-based companies or big pharmaceutical firms with R&D sites in the US.
The aim of this group is to represent the interests of the companies and investments in pharmaceutical development, so we are very interested in innovation and development. Of course, at the end of the day our objective is to help Romanian patients but also other LAWG affiliates in other European countries to help local patients gain access to these innovative medications.
LAWG was founded in Romania in 2010 and we are affiliated to the Pharmaceuticals Research and Manufacturers of America (PhRMA).
Ovidiu Posirca
CV Gabor Staniszlav
May 2014 – present LAWG president
April 2013 – present ARPIM board member
March 2013 – present country director, Amgen Romania
2011 – 2013 senior manager commercial, Hungary, and Center of Excellence CEE at Amgen, Hungary
senior manager, oncology business unit, at Amgen Hungary
He graduated from the Semmelweis University, has a Pharm.D. in Pharmacology and holds an MBA degree (distance learning program) from the University of Durham
LAWG members
AbbVie
Amgen
AstraZeneca
Bristol Myers Squibb
Eli Lilly
GlaxoSmithKline
Janssen of Johnson & Johnson
Merck Sharp & Dohme
Novartis
Pfizer
[/restrict]