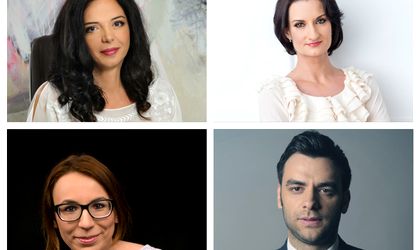 More and more people are interesting in knowing more about themselves, in discovering and becoming their best version and, ultimately, presenting that version to the world. The book industry has picked up on this trend and has adapted fast. Now, libraries and bookstores are full of shelves dedicated to "personal development / growth" books from several publishers. And their numbers are growing every day, just as are the numbers of people buying these types of books.
Romanita Oprea
The business side does not end here, of course. Personal branding, and all types of personal development trainings appear daily on the Romanian market and the established ones are also growing their number of adopters. "No doubt it is a market in growth, or at least steady, as people are more and more aware of this need, but I couldn't give any estimate. Only by observing the dimensions and the positioning of the shelves in bookstores dedicated to self-development literature, does the focus becomes clear. New terms and meanings are coined to describe social realities that did not exist 5 to 10 years ago. It's the times we live in that have accelerated the need to take faster, and maybe more radical, decisions regarding work-life balance; opportunities are everywhere, doubled by the mirroring risks, entrepreneurship and freelancing lures more people and there is a lot of talking around this subject in the last ten years, etc. So with lots of open doors and market dynamics as never before, people put more pressure on their careers and ask more of themselves," explained Mihaela Radulescu, personal branding consultant at Innerout.
Therefore, it bares the question: how has Romanians' real perception changed when it comes to personal development in the last years?
"Maybe a better word to use, instead of "changed" could be "was created," because this is a very new concept. It came from the other side of the Ocean, together with the trainers and the personal development books that have become more and more present in our lives. It`s also a paradox, because, even if it is a new concept, it is demonetized already," considers Andrei Dunuta, founder and sales trainer at Selftrust Academy. From his point of view, this happens on one side, because people don`t make grounded choices, they don`t have strong criteria, as the market is very young and people are very willing to learn new things and experiment, without carefully selecting what they are consuming. On the other side, "the training professionals, in their effort to educate the market or attract new customers, organized a lot of free events that managed to start many conversations about this topic that then became very common," explained Dunuta. From Selftrust Academy's experience, the people that are more inclined toward the self-knowledge field are the ones working in banking, HR, insurance, auto, pharma, creative industries and liberal professions, such as doctors and lawyers. Regarding the position they hold, managers and entrepreneurs have a big interest in personal development, because they have understood that, if you want to grow professionally, it is faster by accessing other experts` knowledge. It is also a question of personal reputation and image. As a factor regarding taking the decision to attend this type of class, Dunuta said that the environment is also essential for their target; people come to their courses through recommendations and bring their friends. They influence one another.
"In dealing with this large amount of information, people always follow the same rule: they want different. And because we offer some creative alternatives, the demand for our courses grew more and more last year. For example, in 2015, we had more than 4,300 participants at our events and courses," concluded Dunuta.
When it comes to personal branding, Anca Maria Banita, communication & personal branding professional, considers that the topic is just now scratching the surface, becoming hotter and hotter. "People are starting to realize that "Me Inc." is a brand each of them it is in charge of, for their whole life. This comes with the opportunity to create something great and the responsibility to manage what`s in your hands. In order to grow and flourish, this personal brand needs constant investments and attention, something more and more people are willing to offer," said Banita. With 8 years of experience in PR & various trainings given on topics such as advertising, personal branding, PR, social campaigns, Banita is currently also offering personal branding courses for the Calea Victoriei Foundation, that are mixing PR & communication with elements from spirituality and personal development. "When you have a real conversation with yourself, it is very important to establish what your brand is about. The course is created after some personal quests and has this spiritual touch because I have had this passion for a long time.
I have seen small revelations, people truly wanting to reach their potential and share their dream with the world; I witnessed a strong desire to learn and grow, and a genuine interest in personal evolution and getting closer to answering the question: Who am I?," affirmed Banita.
Asking oneself the New questions
"Regarding the personal development topic, I can share my opinion having been among the first ones in Romania to invest in this area personally, more than 10 years ago for the first time. I have witnessed a growing interest in this topic in the last years, because people are starting to ask some new and powerful questions about themselves and about the meaning of life. People are starting to look inside and search there for answers regarding their results, their relationships, their failures, their conflicts or their achievements. This is a big shift that`s taking place and I find it amazing. People are beginning to realize that they are the only ones responsible for their lives, they are the unique creators of their reality, so they are taking back their personal power. When you realize it`s in your power to have the life you want, you start taking action," said Anca Banita.
"People are more open to buying such services and, basically, accepting that what needs to change is within them. They realize that they might have the wrong approach or just feel there are some missing pieces regarding their understanding of life that they would like to clear up. Another change is the fact that they are more willing to accept the fact that they could use some help in this direction," considers Doina Enache, founder & holistic development coach of Upperself.
The rise of the market and the people's ever-growing desire for better self-knowledge, taking control of their lives, their desire to free themselves of dependencies and toxic attachments are the main reasons that Upperself was born. The company offers self-knowing counseling services (from personal development to crises situations, chakra unblockings, accessing previous lives, energy-informational matrics, etc.), archetypal workshops, relationship harmony, vocational and parenting analysis, personal development camps. "I decided to start a business in this field as a result of my personal self-discovery journey, once I felt I was no longer represented by what I was doing. I started looking for answers for myself in 2004 and in 2008 I transformed this passion into a profession, after having managed for several years a company in the furniture industry. I don't see other players in this field as competition. Fortunately, there is a large variety of services from which one can choose. People respond and are attracted to different techniques or practitioners and it is very important that they have options," explained Doina Enache.
At Upperself, according to her statements, they approach a person holistically and support him or her in the journey of self-discovery and self-empowerment. "I believe than once a person knows themself and comes in contact with his higher intelligence, they can take full control over their life and decisions, and thus live a satisfied life. I support this process by using instruments from various disciplines in which I am certified, so I choose to work with the one that brings the greatest benefit at that moment," added Enache.
More than a growing market, there is also a rather atypical one, in the sense that people choose a certain type of service based on the issue they are facing, but also based on what they believe will work for them or be more comfortable. At first, some people prefer rather passive experiences, such as conferences, while others prefer to approach the problem directly through one-to-one work with a particular trainer or therapist or through group work. "In our portfolio, the most purchased product is the numerological analysis, which is done in one session and offers a lot of insights about a person. One client told me this session offered her the same amount of information she had learned about herself during her 6 years of psychotherapy sessions. The reason I believe my clients prefer it is also because it's extremely revealing but also because there is still a reticence to purchase counseling services, in general. People still hold on to the belief that if you go to a counselor or psychotherapist, it means you have mental problems or you are a failure, as you cannot sort things out for yourself," added Enache.
On her turn, Anca Banita also believes that in this lifetime journey, the most wonderful of all, one needs some guides along the way. This journey is perhaps why people are reading personal development books more and more, why they are attending events to bring them clarity, information and inspiration, why they hire coaches to help them reach their goals, why they want to discover themselves each day, in order to know what makes them truly happy. "It`s also about the fact that people are starting to question the criteria behind what success and happiness really mean. Slowly, they are starting to set their own rules and look for ways of achieving their goals, but it`s a long process, a challenging one, so you need to take all the help you can find," also said Banita.
Following the personal lead
Mihaela Radulescu believes that Romania is naturally following a worldwide trend shaped significantly by the rise of social media, communities of peers and the change in working time structure. "Personal branding is much more than a fad. The need for it, in business at least, has become an almost sine-qua-non prerequisite for success. And this is due to one main reason: personal reputation, now easier to track anytime, anywhere has started to matter a lot. More and more professionals (executives or entrepreneurs) realize the need to clearly articulate their own discourse, to put forth their own professional offer consistently. I dare to say that the noisier the clutter of daily news about everything, the bigger the need for standing apart through branding," said Radulescu.
Moreover, in her opinion, branding enforces clarity, unites perspectives, and creates a distinguishable and potentially memorable footprint for the business and its leader. "Branding is a powerful (self) management tool and the first solid brick for public exposure: because indeed, branding is not (only) about exposure but about creating the very core of what you have to say so as to represent you at your best, to be relevant to others and, if possible, to bear a certain degree of newsworthiness," added Radulescu.
One of Innerout's basic principles shows that personal brand is not about the ego, but real introspection and a strategic path in life. More than that, one's personal brand is not just a polish, but an authentic nutshell of qualities acknowledged and enriched. "What I do is personal branding consultancy. I do not teach people self-help, I do not deliver public speaking about how to enhance your brand in general and I do not sell tips& tricks. Personal branding is …personal, therefore it is a one-to-one endeavor, a 100 percent personalized approach. It's tailor-made, meaning time and know-how dedicated individually to each person," explained Mihaela Radulescu. Actually the very name of her freelance company – Innerout – encapsulates the quintessence of her approach: personal branding starts from the inner capabilities of the person in order to be sustainable, further builds on authenticity and then shows itself on the outside, in its best versions.
Personal branding is about creating a professional identity, first and foremost, and then putting it in its best verbal and graphic shape, in order for its messages to properly reach its most relevant stakeholders .
Still, emphasizes Radulescu, personal branding and personal development are neighbors, but not relatives. "Branding is publicly related more to communication and exposure, while development is more of a personal roadmap to follow. It is also true that it happens for both to occur more or less in the same period of life: at midlife, at career crossroads, after downshifting, or when the employee status makes room for the need for more personal freedom. Still, the common denominator of personal branding and personal development is the need for identity. Branding is about shaping identity and consolidating a reputation based on that identity and starts with a solid portion or self-awareness and self-knowledge. Branding must unleash self-development otherwise the whole process risks flimsiness. Branding itself is a discipline in which fields as communication, psychology, social behavior theories, coaching, advertising and good writing skills dovetail," concluded Radulescu.
The future is here
According to Andrei Dunuta, little by little, people are starting to filter the information more and more, they are beginning to understand who is offering real value and who has really something to say, they are becoming more selective with their time invested in their personal development. "So, I would say that the market will become mature in the following years. At the same time, the online trend will grow – I am referring to the rise of the e-learning sector. It is a successful business model internationally, because it covers the need for flexibility and accessibility," said Dunuta. Moreover, people want to be able to access a resource when they are available, at a lower cost. Also, people realized that they can learn by themselves and be self-educated. For training professionals also, e-learning is helping them to distribute the information faster and wider, by working less. If one looks abroad, it is already happening.
"Another thing is that people have started to make the difference between the trainings that offer concrete information and help them in their professional life and the ones that also provide inspiration and have an emotional approach and help them be more relaxed and actually integrate the concrete information as well," said the Selftrust Academy representative.
More and more people will embark on this journey of discovering themselves and they will look to people for guidance in this process, also believes Anca Maria Banita. According to her, the personal development market is still very young and they, as trainers, are growing together with their audience, learning from them, understanding what they need and how they can support them. But when this market will mature, "we will find some well-defined niches and professionals prepared to satisfy the needs. Personal development is a very wide topic, so the need for specialization will appear, together with the public`s understanding of what they really need. Maybe you need someone to help you set your objectives or you need support with your personal brand or to be more productive. There are very different topics and we need professionals who can cover a topic very well, who will build a personal brand around a narrow topic, such as productivity or motivation etc.," concluded the communications professional.
"I see that we will have reached the tipping point of people that use or have used such services in the coming years, so it will be a common thing, just like going to a doctor. Also, I believe such services will be acquired increasingly more by companies, as a way to recruit and nurture their talents. Hopefully, at a certain point we will have classes on self-knowledge and personal development in schools, so children can grow aware of themselves and would know how to approach life in order to be satisfied," commented the Upperself representative.
Photo:
Doina Enache, Upperself (upper left)
Mihaela Radulescu, Innerout (upper right)
Anca Maria Banita, communications&personal branding professional (lower left)
Andrei Dunuta, Selftrust Academy (lower right)