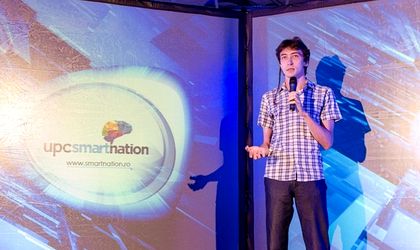 Romanian Paul Neculoiu applied repeatedly before being admitted to the European Space Agency (ESA). Third time was a charm and he was recruited in the artificial intelligence team of the ESA. His research interests lie in robotics, autonomous systems, embedded systems, kinematics and manipulation, distributed algorithms, artificial neural networks, reservoir computing, computer vision, model predictive and adaptive control, evolutionary algorithms. Neculoiu tells BR he grew up with science-fiction and has a vision about what a utopian technology-driven world would look like.
By Otilia Haraga
What will be your responsibilities at the European Space Agency?
The Advanced Concepts Team in the European Space Agency deals in short with feasibility studies of emerging technologies, with a view to their application in future space missions. Due to the extremely high costs related to launching and managing equipment in space, both the agencies and the sub-contractors want to take as few risks as possible. The technologies that could be used in the future must first be discovered, analyzed, tested, completed and proven, to show that they can be viable alternatives to the current technologies or can fill the gaps that current technologies cannot. As a member of the team, my duty is to be in the loop with the progress in artificial intelligence, and together with experts from other fields, to see what is worth pursuing and what isn't, what must be done to prove the technology works and what should be avoided. All this, preferably in close collaboration with universities and research centers, while we are also promoting the aerospace industry. I will see then and there what are the concrete steps to be made.
How were you recruited by the ESA? What skills do they want in their researchers?
From time to time, they announce new open positions. Whoever wants to, applies. After a careful analysis of the CVs, 2-3 shortlists of candidates and as many interviews, they choose the right person for the job. At least, this is how it worked in my case. I do not do recruitment, so for other positions in other fields it may work differently, but as far as I can tell, apart from your background, they are first of all looking for motivated and passionate people who know what they are talking about and who come up with ideas and opinions, are not afraid to put them forward and discuss them, both in their area of expertise and others. I believe though, that the most important thing is to like to think. If you like to think, the rest will follow.
You are a product of the Romanian education system but you have also worked abroad. Do you think that, starting from a certain level, one wastes away one's talent in Romania or you can also achieve performance here as well?
It really depends on the field. In the airspace industry, no chance. In IT-related fields, maybe, because the necessary investments are smaller. The main obstacles for research in Romania are financing and the work culture, because know-how can still be found. In robotics it would be possible if the necessary financing existed. We have here very intelligent boys and girls, who are wasting their talent on small projects without a future because they do not know what to compare against and cannot afford to take risks. The research culture in Romania, but not only, is still a closed circle, and one's primary concern is not to starve and only after that, one thinks about producing something, if one have any neurons left. Of course, you can waste your talent even abroad, because there are problems everywhere. I have met a lot of people who will never be able to fulfill their potential because they cannot deal with the system, but things are however better than in Romania. In life one must know more than the basics to do one's job well.
Where have you studied before being recruited by the ESA?
After I completed my electronics studies at the Politechnic University in Bucharest, I studied at the University of Groningen in The Netherlands where I finished cum laude, and I also attended an internship at the Osaka University in Japan.
You applied three times at the ESA before being recruited. What do you think made them accept you this time? What are your expectations from the team you will be working with?
There were three things which I did differently this time. First of all, I got my master's degree, The first two times when I applied, I was still in school. I think that counted a great deal. Secondly, I found a position that was more tailored for my abilities. And thirdly, I gave up the cliches about how to apply for a job which the society and the internet uses to brainwash you. Today's society programs us to become hardworking drones who do not ask too many questions and fit the pattern, but I don't believe that an institution which promotes thinking is looking for such 'skills.' I expect to work with a lot of smart people, much smarter than me, so that I can continue to learn.
What are your long-term goals? Where do you want to get?
That's a good question. I grew up with science fiction, so I have made some ideas along this line, about what a semi-utopian world would look like in a possible future for humanity. In this future, food is produced in abundance in completely automated vertical farms, and technology insures that plants optimize their nutritional values, current agricultural fields are restored to nature so that bears and deer can roam free and so on.
In this future, we produce energy from less damaging sources for us on the long term, like solar, wind, geothermal or from the sea waves, or who knows what type of nuclear fusion, we prevent and cure diseases with the help of nanorobots, stem cells or genetic engineering, we automatically mine our resources from space asteroids, boring or dangerous jobs are taken over by robots and people are freed from the ordeal of day-to-day living which destroys their brain cells and their health and are fee to think, to observe, to explore, to discover, to understand and to create. I would like to be able to lay a brick in building this future. Because the alternatives are less pleasant.
What are your hobbies? What do you do in your spare time?
I'm just an ordinary person. I occasionally meet some friends,watch a movie or read a book. When I have time I work on a personal project on robots and intelligent systems. I try as much as possible to practice martial arts, depending on what is available in the city I live in, but generally kick-boxing. I also try to learn an interesting new language. For now, I am struggling with the Chinese. And when the snow comes, I hope to reach a mountain and practice some snowboarding but unfortunately I do not manage to do that every winter.
CV Paul Neculoiu
September 2009 – August 2012- University of Groningen, The Netherlands
Msc. Artificial Intelligence cum laude
February 2012 – April 2012, April 2011- June 2011- University of Groningen, The Netherlands
Teaching Assistant
-October 2004 – July 2009- Politehnica University of Bucharest, Romania
Dipl. Ing. Electronics Engineering
December 2010 – August 2012 – Team project involving students and staff members at the University of Groningen researching and developing domestic service robots to compete in the Robocup@Home competitions. Participated in competitions in Germany, Iran, Turkey and The Netherlands
July 2010 – December 2010 – H.O.V.E.R.
Graduate research student at Osaka University, Department of Systems Innovation.
Conducted research in embedded control systems for an autonomous hovercraft. Used machine learning techniques to predict sensor data and generate control vectors.
December 2009 – July 2010 – Little Green Bats
Team project involving students at the University of Groningen performing R&D in simulated robot soccer agents for the Robocup 3D simulation competition. Participated in competitions in Germany, Iran and Singapore.
otilia.haraga@business-review.ro