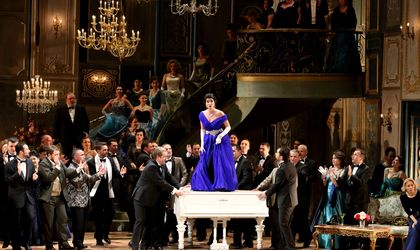 Last season, Bucharest National Opera house opened with  a new version of Verdi's La Traviata, staged by the famous British director Paul Curran. On National Culture Day, the performance returns on Bucharest Opera House scene for four incredible representations.
As you may know, Giuseppe Verdi's La Traviata is today the most frequently staged opera in the world, and its composer's oeuvre also the most performed, said Razvan Ioan Dinca, former general manager of Bucharest National Opera, so a new interpretation of the libretto can be a challenge.
The plot of La Traviata is well known, telling the story of a courtesan who lived in Paris in the first half of the 18th century. Traviata means fuori della strada (to depart from the right path), adds Curran. Along with choreographer Gary McCann, he came up with an original and provocative take, transposing the action from 1700s Paris, where Verdi set his story, to the 1950s. "The last really conservative era in the West was the 1950s, when a sex scandal involving an independent woman could be understood," said the director. That decade also allowed the preservation of social nuances that would resonate with contemporary audiences.
For the premiere (30 October 2014), Business Review talked to the choreographer Gary McCann, and the full article can be read here.
Currently, the performance will be staged again by the Bucharest National Opera, on January 15,16, 29,30, from 19.00. Last autumn, Curran's La Traviata has been staged in USA, by Philadelphia Opera, and both public and critics highly appreciated it.
Tickets can be bought from  www.tickets.operanb.ro
Credit photo: GIN Photo
Oana Vasiliu